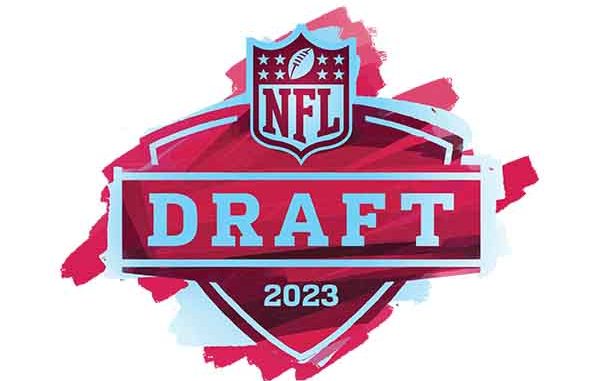 The first round of the 2023 NFL Draft concluded last night after 32 selections came off the board in front of a raucous Kansas City, Missouri crowd. Alabama quarterback Bryce Young was the first overall pick by the Carolina Panthers, which is what the odds for NFL Draft betting had been suggesting for the previous two weeks.
Because the intentions of each franchise were unknown following the first selection, NFL odds for following picks were scarce. What's also eluding our team today are any remaining odds for betting on the NFL Draft at online sportsbooks. We've found a few lines for the first overall pick of 2024, but none remaining for rounds two through seven of this year's Draft at 18+ NFL sportsbooks.
The second and third rounds of the 2023 NFL Draft begin tonight at 7 PM on NFL Network and ESPN. The Pittsburgh Steelers are on the clock and preparing to make their first of two second-round selections. The Steelers drafted Broderick Jones in the first round at 14, a gargantuan offensive tackle out of the University of Georgia.
Kentucky QB Will Levis was projected to go near the top of the draft this year but has slipped into day two. The Steelers aren't shopping for a quarterback at the moment. Could the Detroit Lions, Seattle Seahawks, or Las Vegas Raiders be a player for Levis?
2023 NFL Draft Order – Second Round
32. Pittsburgh Steelers
33. Arizona Cardinals
34. Detroit Lions
35. Indianapolis Colts
36. LA Rams
37. Seattle Seahawks
38. Las Vegas Raiders
39. Carolina Panthers
40. New Orleans Saints
41. Tennessee Titans
42. Green Bay Packers
43. New York Jets
44. Atlanta Falcons
45. Green Bay Packers
46. New England Patriots
47. Washington Commanders
48. Detroit Lions
49. Pittsburgh Steelers
50. Tampa Bay Buccaneers
51. Miami Dolphins
52. Seattle Seahawks
53. Chicago Bears
54. Los Angeles Chargers
55. Detroit Lions
56. Jacksonville Jaguars
57. New York Giants
58. Dallas Cowboys
59. Buffalo Bills
60. Cincinnati Bengals
61. Chicago Bears
62. Philadelphia Eagles
63. Kansas City Chiefs
The New Orleans Saints and Tennessee Titans could also be interested in drafting the Kentucky quarterback. Other top players that should come off the boards soon include Joey Porter, Jr. – defensive back out of Penn State, Michael Mayer – tight end out of Notre Dame, Hendon Hooker – quarterback out of Tennessee, Brian Branch – safety out of Alabama, and Luke Musgrave – tight end out of Oregon State.
Two teams that did not have a pick in the first round were the Miami Dolphins and the San Francisco 49ers. The Dolphins' first pick of 2023 will be at 51, but the 49ers don't have a selection until round three pick number 99.
The 49ers actually have 11 total selections remaining through rounds three and seven, and that's with no picks in the fourth. This is due to the NFL awarding San Francisco several compensation picks during the offseason.
Despite their lack of a Super Bowl Championship in recent years, critics cannot deny the impressive performance that the 49ers turn in each year at the NFL Draft. They drafted QB Brock Purdy as the last pick of the 7th round in 2022, so keep an eye on who they select in the coming days, and don't be surprised when they end up balling on Sunday afternoons.
If you are looking to place NFL bets on the draft, keep monitoring the boards to see if any odds appear prior to 7 PM.