Super Bowl Prop Bets At 18+ Sportsbooks
Each February, Super Bowl betting becomes the major focus of 18+ online sportsbooks around the country, causing the production of thousands of SB prop bets for any occurrences that take place during the big game. Super Bowl prop bets at 18+ sportsbooks can be difficult for rookies, but not if you read these instructions first.
If you'd like to know more about what Super Bowl prop bets are available, how to read the NFL odds involved, and where the best online 18+ sportsbooks are, you've found the right place. By the end of this primer, you'll be armed with the x's and o's of SB prop bets and will be placing wagers on championship NFL odds like a pro.
Is Betting On Super Bowl Props Legal At 18?
Betting on NFL props is legal as long as 18 and over gamblers stick to the recommended NFL sportsbook sites that are listed below. These offshore betting sites operate inside of legal gaming jurisdictions and are able to provide lawful Super Bowl props over the web to US customers that are 18+.
While there are a few US states that feature domestically operated sportsbooks that extend their services to 18 and over bettors, there aren't many. The 18+ sports betting sites listed in the following section cover the entire United States and allow action on NFL prop bets over the web 24 hours a day.
Best Sportsbooks With Super Bowl Prop Bets 2023-24
Super Bowl LVIII Odds & Prop Bets At 18+ Sportsbooks
SUPER BOWL 57 (2023) - Gamelines
Kansas City Chiefs vs. Philadelphia Eagles
Spread: +1.5 (-110), -1.5 (-110)
Win: +105, -125
Total: O51.0 (-110), U51.0 (-110)
Coin Toss - Result Of Coin Toss For Super Bowl 57
National Anthem - How Long Will It Take Chris Stapleton To Sing The US National Anthem?
Over 2 Minutes And 02 Seconds -135
Under 2 Minutes And 02 Seconds +105
What Color Liquid Will Be Poured On The Winning Coach Of Super Bowl 56?
Blue +900
Orange +250
Lime/Green/Yellow +125
Red +700
Purple +650
Clear/Water +700
America the Beautiful - Who Will be Shown first
Kansas City Chiefs Player Or Staff -150
Philadelphia Eagles Player Or Staff +115
America the Beautiful - Who Will be Shown first
Travis Kelce -170
A.J. Brown +130
---
List Of Super Bowl 2023-24 Prop Bets At Under 21 Sportsbooks
Streaker Super Bowl Prop Bets
Non-Football Super Bowl Prop Bets (Nielson Ratings Over/Under, Dow Jones Average Before & After Game, etc.)
Fun Super Bowl Prop Bets: Activities On Sidelines, In Crowd, Or Inside Broadcast Booth
Other NFL Bet Types
2023-24 Super Bowl Betting Apps For SB Props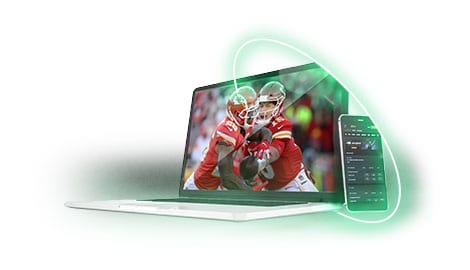 NFL props can be wagered upon using the Super Bowl betting apps provided by each of the online sportsbooks recommended here at SB18. Eighteen and over Super Bowl gamblers do not need to download any software to utilize these mobile sports betting apps, however.
Current Apple (iPhone, iPad) and Android (Samsung, LG, Google) smartphones and tablets can be used to click on any sportsbook link on this page and their device will convert into a Super Bowl prop betting machine that can be taken anywhere in the United States and used to wager on the big game.
Should I Set A Super Bowl Prop Bet Schedule?
Yes! Setting a schedule for your SB prop bets is paramount if you intend for the wagering action to last throughout the night. Sure, any ol' Super Bowl bet will cash in at the end of the game, but a prop bet schedule will keep gamblers active and glued to the screen, waiting for results all night long.
Here is the schedule of when Super Bowl props will cash in during the final Sunday of the season:
Super Bowl Commercials – These begin airing as soon as Super Bowl coverage begins, which starts hours before kickoff
The National Anthem Performance – The singing of the Star-Spangled Banner always occurs moments before the coin toss.
Super Bowl Coin Toss – The game has not even begun, and yet the third opportunity for a cash payout occurs when the teams decide heads or tails.
Statistical And Scoring Props – Once the game clock gets running, all props for team and player stats are in play, including first team/player to score, and first type of score (TD, field goal, safety).
Halftime Show – After the 2nd quarter, the Super Bowl Halftime Show commences with a fleet of props on any and all potential occurrences during the setlist.
Props For The Winning Team – There are various prop bets for Super Bowl winners that take action near the end of the contest. These include props for the color of the drink that the winning coach is doused with, Super Bowl MVP odds, comments made after the game, wedding proposals, the price of Bitcoin, and more!
Super Bowl Props: Are They Live Betting Odds?
The spectrum of live betting on the Super Bowl includes prop bets because they are able to receive action from gamblers until an outcome is reached.
For instance, bets can be made on Super Bowl MVP odds until the award has been given – but online NFL betting sites can remove the lines at their discretion. Super Bowl props qualify as live NFL betting, but that doesn't mean they'll stick around for the entire duration of the game like spreads and totals.
Prop Builders For Superbowl 58
Due to the enormous amount of SB propositions posted to the boards each February, we recommend using Super Bowl prop builder apps like the ones featured at Bovada, MyBookie, BetOnline, Xbet, and SportsBetting.AG.
Why? Because these prop builders for Super Bowl 2023-24 grab all the team and player-based odds and place them into one location and also allow for 18+ NFL parlays to be created and calculated with up to ten bets included depending on where you're doing your business.
Don't waste time while NFL Playoff betting searching around for odds. Use SB prop builders and make it quick and easy.
Sportsbook Funding Options For Super Bowl LVIII Prop Bets
Any of the online NFL betting sites we endorse accept the US dollar via a variety of means, but we recommend checking out cryptocurrency when making online sportsbook banking transactions.
The over-18 sportsbooks that are included in our top sports betting site reviews prefer Bitcoin deposits, as well as other forms of crypto, over USD transactions because they are safer and faster – and they hand out larger cash bonuses to entice its use.
We recommend funding your sports betting account with cryptocurrency for the exact same reasons that the sportsbooks prefer it – security and expediency.
Should You Accept A Super Bowl Betting Bonus?
First, Sportsbook promos are entirely optional and have no impact on whether or not an account can be created. Read through the terms attached to the sportsbook promo code and determine if you can meet the playthrough requirements within the proposed timeline.
The bonus cash is based upon a percentage of the first (or sometimes follow-up) deposit. That amount is placed in accounts once the transaction is finalized and bonus funds can be used on Super Bowl prop bets in the sportsbook immediately.
---
What Are Super Bowl Prop Bets?
From the moment the Super Bowl 58 broadcast begins until the second the program clears the airwaves, all outcomes occurring in between are fair game for NFL prop bets. Categories at NFL betting sites include team and player stat totals and other accomplishments, but also largely involve fun Super Bowl prop bets on the coin toss, commercials, halftime show, National Anthem performance, and more.
Each Super Bowl prop will feature either a yes or no outcome, an over/under total, or a list of potential results that 18+ NFL gamblers can wager on. Moneyline odds will be listed next to each possible conclusion for betting on NFL teams and players and represents the likelihood of victory while also disclosing the payout potential.
Here is an example of a Super Bowl prop bet to further explain how the process works.
Matt Stafford Touchdown Passes (Super Bowl 2022)
1-2 Touchdowns -120
3 Or More TDs +275
0 Touchdowns +440
The lowest moneyline odds on the board for each Super Bowl 58 prop bet will be the outcome that has the highest probability of occurring. In this case, Matt Stafford is expected to throw between 1 and 2 touchdowns, and the moneyline odds are listed in the negative.
Because the odds are negative, more money must be bet on the outcome than can be won. A wager of $1.20 on Stafford throwing between 1 and 2 TDs will net one dollar if that is the final result.
The other two options in this prop bet for the Super Bowl have positive odds because they have a lower likelihood of happening. Bets on Brady throwing zero, or 3+ touchdowns breakdown as follows:
A $1 bet on the +275 odds of Stafford throwing 3 or more touchdowns will net $2.75
$1 bets on the moneyline of +440 for zero TDs will net $4.40