18+ NFL Moneyline Betting
Moneyline bets in the National Football League are one of the easiest NFL bet types to understand. Like in a sudden-death playoff game, it's win or go home when 18+ NFL moneyline betting, but some strategies can be applied that give gamblers an edge.
Digest the following guide to NFL moneylines and learn what's involved in winning or losing a wager. We also disclose how to calculate payouts based on the amount of the bet that was made on the moneyline odds and what types are offered at the best sportsbooks on the web catering to 18 and older members.
Is Betting On NFL Moneylines Legal At 18 Years Old?
Yes, American gamblers that have reached the age of 18 can bet on the NFL at offshore sportsbooks across the country or at domestic venues in a handful of states. Between the international sports betting sites we suggest in this guide, all states are covered in the USA.
NFL sportsbooks that operate overseas are not subject to US gambling laws and can legally accept moneyline wagers on pro football over the web from Americans that are 18, 19, and 20 years old.
Best 18+ Sportsbooks For NFL Moneyline Bets
What Is The Moneyline In NFL Betting?
No matter what sport you are betting on, the moneyline odds are represented by 3 to 5-digit positive or negative numbers that are listed next to each team or athlete's name in game lines, futures, and proposition wagers.
NFL moneyline odds allow bets on teams or players to achieve any given outcome, from winning a game to earning a division title. 18 and over sports betting sites payout to gamblers that wager on the moneyline for the winning outcome.
---
How Does The Moneyline Work In NFL Betting?
If you place a wager on a team or player's NFL moneyline, that bet will win if the team or player wins. 18 through 20 NFL gamblers only need to figure out how much they can win versus the amount risked when laying some action on a pro football moneyline.
Positive NFL Moneylines – Wagering on moneyline odds listed in the positive allows for payouts that exceed the amount wagered. A moneyline of +800 will reward cash winnings of $9 on a $1 bet. Positive odds are granted to the underdog in an NFL betting line, but several candidates can feature positive moneylines in futures and prop bets.
Negative NFL Moneylines – In most cases, a team or a player with a negative moneyline indicates the favorite, but there are times when game lines will post negative lines for both teams. Because online sportsbooks believe that the team or player is the most likely to win, they will not risk as much as members are required to. Odds of -280 will deliver net payouts of $1 on wagers of $2.80.
NFL Betting Lines
Game lines for preseason, regular season, and playoff matchups will be posted at online sportsbooks that include the NFL point spread, over/under, and moneyline odds for the team that will win. Betting on the moneyline in an NFL game line will win if the team you wagered on wins.
NFL Futures
The odds for Super Bowl winning teams, AFC and NFC Conference Championship winners, and division champions comprise the majority of NFL futures betting. All pro football franchises that remain alive in the hunt for the postseason or the Super Bowl will be listed in order of most to least likely to win.
Because there are multiple options in play for much of the season, most teams feature moneyline odds well into the positive that will deliver exponential payouts if they win. That scenario changes as teams are eliminated from playoff consideration and removed from the boards, as the favored franchise will typically transition into negative odds.
NFL futures are the most common form of betting on the Super Bowl as they are available at online sportsbooks all year.
NFL Prop Bets
Any team or player statistic, award, or in-game occurrence/achievement can be wagered on at over 18 sportsbook sites. These are called NFL prop bets, or propositions, and are available for all pro football games.
Each outcome in an NFL proposition will include moneyline odds for their chances of winning. Most football props involve yes or no outcomes or statistical over/unders, but many feature lists of players or results that are potentially limitless. As with any other moneyline bet, you can head to the pay window if your selection wins.
Super Bowl prop bets number in the thousands each February for nearly every single on-screen event throughout the televised broadcast, including commercials!
---
Mobile NFL Betting Apps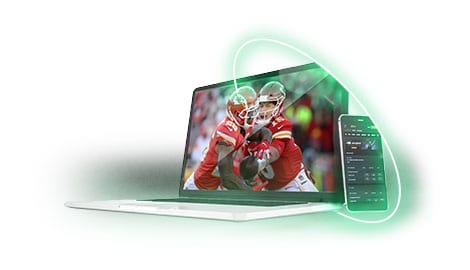 The offshore sportsbooks we recommend to our eighteen and older readers can be accessed using mobile web browsers on all major Apple and Android smartphones and tablets in the USA. Our preferred mobile sports betting apps allow their members to make NFL moneyline wagers without downloading any software.
Users of iPhones, iPads, and Android devices can quickly pull up NFL moneyline odds at our top online sportsbooks just by clicking on any of the links we provide in this guide. They are all 18-friendly and allow for mobile NFL bets across the entire USA.
---
Is There In-Game Betting On NFL Moneylines?
In most cases, live betting on NFL moneyline odds is allowed at the offshore sportsbooks we suggest for 18+ gamblers. These in-game odds will shift as time ticks off the clock and can be removed without notice.  
Check with each online NFL betting site included in our sportsbook reviews to see what they offer once each game has started, as live moneylines are not always included in the in-game lines. However, all NFL prop bets remain live until an outcome is reached, so their attached moneylines receive in-play action as well.
Does The Moneyline Include Overtime In The NFL?
Yes. Since moneyline bets in the NFL are made for simple winners, overtime outcomes count and do not result in a push. The rules do change at some books when parlaying NFL moneylines, so read the terms before laying any action.
How Often Does The Moneyline Favorite Win In The NFL?
When discussing NFL game lines, moneyline favorites have historically won 66% of the time. Favored moneyline odds getters in NFL prop bets have a high probability of losing because they are often up against many competitors.
Does A Moneyline Bet Push On A Tie In The NFL?
If an NFL game remains tied after an overtime period has been completed, the contest will result in a tie. In that case, NFL bets made on the moneyline odds to win will push for both teams, and all wagers will be refunded to accounts.
---
Strategy For NFL Moneyline Picks
Do not chase multiple underdogs. While teams that are predicted to lose are often victorious, selecting the correct one on a given week is difficult. Still, those NFL moneylines for underdog teams are hard to resist, so do your homework and place a low dollar wager on no more than two teams with positive odds on a given week.
Shop the NFL moneylines. If you only belong to one 18-friendly sportsbook, you're limited to the moneyline odds that they're offering. Multiple sportsbook accounts lets you shop around and bet on the football moneylines that will return the highest payouts.
Deposit and withdraw using Bitcoin or other cryptocurrencies. Offshore sportsbooks banking options include crypto and USD, and we advise betting with Bitcoin and other altcoins because of their secure online transactions that are expedient both coming and going.