Where To Make NFL Picks Against The Spread At 18+ Sportsbooks
Because wins and losses are easily predicted in the National Football League, point spreads are granted to each team for handicapping purposes. The following guide will inform readers where to make NFL picks against the spread at 18 and will also walk gamblers through what point spread betting entails.
Find out how to read NFL point spreads, what negative and positive numbers mean, and who the favorite and underdog teams are. We also list our top online sportsbooks that offer this popular NFL bet type to 18, 19, and 20-year-old gamblers in the USA.
Is NFL Point Spread Betting Legal At Age 18?
Yes. Betting on NFL point spreads is arguably the most popular overall type of sports wagering option and is offered at all legitimate sportsbooks in the United States. Legal NFL spread betting can occur at the age of 18 at any of the offshore sportsbooks that we recommend here on this page.
These 18 and up online NFL betting sites operate within regulated gaming districts overseas that fall outside state and federal jurisdictions. NFL gambling services are provided to all 50 states, plus Washington, D.C., between the 18+ offshore sportsbooks mentioned in this guide.
Best 18+ Sportsbooks To Bet On NFL Point Spreads
What Does NFL Spread Mean?
An NFL spread, or point spread, refers to the number of points each team is predicted to win or lose by and is typically the first element of a football betting line. Points are granted to underdogs while they are taken away from favored teams to create an even matchup.
Winning requires betting on NFL teams that cover the spread by losing by less or winning by more than the margin.
How To Read NFL Point Spreads
Here is an example of an NFL betting line between the Buffalo Bills and Los Angeles Rams:
In the above game line, the first element is the point spread. The Bills have a spread of -2.5, which means they are favored to win and will need to do so by 3 points to cover. The Rams are the underdog at +2.5 and will need to lose by 2 or fewer points in order to cover the spread.
---
How To Bet On The NFL Favorite And Win
The favored NFL team will feature a point spread listed in the negative. If the New England Patriots are favored to win the game by 5 points, they will be granted a point spread of -5.0.
If gamblers place a wager on New England to cover the spread, bets will win if the Patriots win the game by 6 or more points. If New England wins by exactly 5 points, the bet is a push.
How To Bet On NFL Underdogs And Win
The underdog team in an NFL betting line will have a positive point spread. If the Dallas Cowboys are picked to lose by 3 points, they will have a spread of +3.0 listed next to their name.
In order to win betting on the Dallas Cowboys against the spread, they will need to lose by 2 or fewer points or outright win the game. If the Cowboys lose by exactly 3, the result is a push.
---
What If The NFL Point Spread Is "Even"?
Every now and then, two NFL teams will match up perfectly. In that case, oddsmakers will give each franchise a point spread of "even." That means that the game is a pick'em, where all that is required of bettors is to select the team that will win the game.
Regular season games still have the potential to end in a tie which will cause the bet to push. Playoff games cannot end in a tie and do not have the potential to result in a push if the spread is "even."
What If There Is A Fractional Or A Decimal Point Spread?
If a team is favored to win or lose by a fractional point spread, there is no chance for the differential to be exact, and the bet cannot result in a push.
A fractional point spread also removes a point of variance. For instance, a bet on a point spread of -2.5 will lose if the team wins by 2 or less but will payout if they are victorious by 3 or more.
If the spread were set at -3.0, payouts require that the favored team win by 4 or more while still losing if the team wins by 2 or less.
---
Live Betting On NFL Point Spreads
The NFL sports betting sites we endorse here at SB18 allow live betting on pro football point spreads for all preseason, regular season, and playoff games. Each book will vary in how long they keep their live NFL betting lines on the boards, but they typically remain in place into the fourth quarter.
Bet on point spreads after the kickoff, and wait until they shift to your liking before placing a wager. Just don't wait too long because live betting lines and point spreads can be removed at any time and are not guaranteed to last until the final moments of the game.
Super Bowl Point Spreads
As soon the Super Bowl teams are known, NFL sportsbooks will produce SB betting lines with point spreads for each franchise. Online Super Bowl betting sites are often competitive and offer variances in the point spreads in order to attract business.
Super Bowl spread betting even takes place prior to the final two teams being decided as wagers can be placed on the AFC or NFC. Super Bowl point spreads also take action during the game with live betting from the first through fourth quarters.
---
Mobile NFL Spread Betting Apps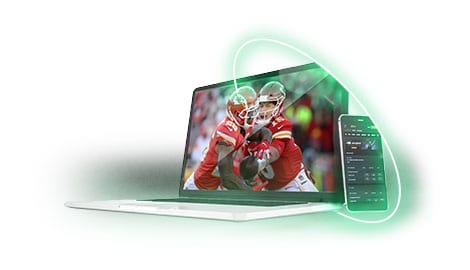 Apple and Android tablets and smartphones can access the latest NFL point spreads, moneyline odds, and props anywhere in the United States. 18 and older NFL gamblers are welcome to become members and place wagers on football point spreads and other odds using iPhones, iPads, and other popular devices connected to the web.
These web-based sportsbook apps operate using mobile browsers and deliver on-the-go opportunities for NFL spread betting without a download. Mobile sports betting on NFL spread picks is just a few clicks away, so check out our top sportsbooks now.
Funding Your NFL Against The Spread Bet
Domestic sportsbooks in the United States only accept USD, but offshore NFL betting sites allow for point spread wagers using cryptocurrency. Bitcoin and other popular altcoins can be deposited securely within a few minutes and are not subject to the extra hurdles in place for traditional USD options.
18 and over NFL gamblers can also withdraw in crypto within the same day it was requested, where US dollar payouts tend to take 48 hours or more to process. We use cryptocurrency every time we place an online bet and suggest you consider it when choosing sportsbook banking options.
Sportsbook Promo Codes For Bonus Cash
Our favorite over-18 sportsbook sites offer members the chance to add extra cash to betting accounts based on a percentage of deposits. All of our top NFL betting sites offer these bonuses to new members, but there are also reload bonus promos at some online books for follow-up uploads.
All that is required to withdraw cash earned by betting bonus funds is the completion of playthrough terms. Becoming a member does not require the acceptance of a sportsbook bonus, so read the conditions and make sure you can finish them in time to collect.