eSports Betting Guide For 18 And Up Players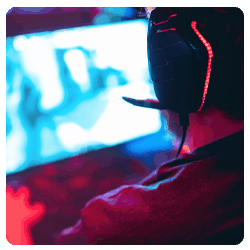 If you had to guess, what would you think is the fastest-growing sports betting market in the world? Give up? It's eSports! Yes, eSports gambling has been on a Rocket League-like trajectory of late, and the cessation of major athletics worldwide during the 2020 coronavirus pandemic drew traditional bettors to this new market like the Flood to Master Chief.
If you want to wager on the best eSports odds and lines, you can do so at any of the top sports betting sites operating online. Our eSports betting guide for 18 and up players shows you where to gamble with only the most legitimate, licensed operators in the space.
Best of all, these are the only sportsbooks where 18-plus bettors can get the full gamut of betting options on all the most popular eSports games, eSports organizations, eSports competitions, and eSports players worldwide.
Is Betting On eSports Legal For 18+ Players?
Yes! As long as you're at least 18 years old and live in the United States, you can legally access all the top eSports betting sites. When it comes to eSports betting, USA residents don't have many domestic options to choose from. Even in the 20 or so states to have legalized local sports wagering, eSports have historically been excluded. As a result, only a handful of states offer limited betting lines for certain eSports games.
Fortunately, however, you can get hundreds of lines on all the top eSports games by placing your bets safely and legally with an online sportsbook operating outside of US jurisdiction. There are no US gambling laws preventing you from playing with these providers.
That said, the state of Washington bars all online gambling, including eSports gambling. While these laws seem to be unenforced and residents from WA can join any betting site listed here, we recommend abiding by all local state gaming mandates.
Best eSports Betting Sites For 18 And Over Gamblers In 2023
What is eSports?
The eSports phenomenon is easier to understand than most people think. On the surface, it's counterintuitive: Video games aren't sports! But once you get past that bias, eSports is a simple thing.
In short, eSports is the category for all professional video game competitions. The games themselves don't have to be sports-related, and the most popular eSports games are, in fact, based on best-selling, widely-played non-sports video game titles.
There are numerous eSports leagues around the world, and there are eSports tournaments and major events taking place all year long. There's even an eSports Olympics tie-in to the traditional Olympic Games!
What is eSports Betting?
For eSports betting, USA gamblers will only find a robust selection of games and events to wager on at legal overseas 18 and up sportsbooks operating outside of US jurisdiction.
Of course, if you're familiar with any kind of sports betting, you'll know just what to expect when betting on eSports. Effectively, as an eSports gambler, you're wagering on the outcomes of various eSports contests, picking winners, top players, and various eSports prop bet outcomes as you would for any other popular athletic event.
The eSports odds work the same way as traditional sports betting odds, with most action based on the American moneyline system. And as with any sport, when you bet on eSports online at an 18 and up gambling site, you need to be sure that you understand the games in question, the rules of those games, and that you appropriately assess the skills and historical performances of the pro gamers that make up the eSports teams in question.
eSports vs. Virtual Sports
In the betting marketplace, there are two other distinct electronic sports categories to be aware of. These are similar to eSports and piggyback off that industry's massive popularity, but they are different in notable ways.
Virtual sports betting is available at all the best 18 and up online sportsbooks, and like eSports, these games are digital in nature. However, virtual sports do not use licensed or "official" mainstream sports gaming engines for their RNG (random number generation) outcomes. Instead, every major operator that offers virtual sports betting has its own software, with leagues and teams that are "generic" variants of existing clubs (and bear no statistical similarity to their real-world counterparts).
Virtual sports lets you bet on simulated sporting events. There are no human players controlling the action, and games take just a couple of minutes to conclude before you can bet on the next matchup. Entire seasons of play take just a day or so, as virtual sporting events are held 24/7/365.
The betting lines for virtual sports are the same as those you'd find for those sports IRL, and they include things like straights, spreads, and totals. Realistically, you can view virtual sports as sports-themed slot machines – only they're a whole lot more fun than slots, especially for gamblers that strongly favor sports betting in general.
eSports vs. Sports Sims
Sports sims are the third digital sports betting market available at most 18 and over sportsbook sites. Sports sims are sort of a hybrid between eSports and virtual sports. That is, sims use real commercial video game sports engines, teams, and rosters (i.e. Madden 21, NHL 21, NBA 2K21, etc.), but they don't feature human players. Games are typically condensed a bit, but they play out in real-time, allowing you to watch the simulated action in full.
Most sites have livestreams available right on the sports sims betting boards themselves, with those same streams available live on services like YouTube, Twitch, and others. Some sites even allow live betting on sports sims, which is something you can't get for virtual sports.
Like virtual sports (and unlike eSports), sports sims are strictly sports-themed. For sports sim betting, all the usual odds and props apply, so if you're already used to betting on the NFL, betting on the NBA, or wagering on any other common sports market, you'll feel right at home putting money on sports sims.
As with real sports betting, you can even get an edge on the sports sims odds boards if you're familiar with the real-world stats of the players and teams in question.
---
How To Bet On eSports In The US At 18+
In the United States, eSports betting is only widely available at offshore betting sites like those listed here. Thus, to wager on eSports, you will need a membership at one or more of these reputable online sportsbooks.
We recommend signing up with several different books to maximize your access to the many different eSports games and leagues covered by these sites, as not all operators feature the same lineups of titles or events. And, of course, for the biggest eSports games and tournaments that feature heavily at all the major books (i.e. LOL eSports and the LOL eSports Worlds, among others), different outlets will have different odds on every matchup.
Signing up at multiple books lets you shop lines for the best possible payouts on any eSports event. To sign up with one or more top 18+ eSports betting sites, simply visit any of the links here, click or tap the "Join" or "Sign Up" button, fill out the provided form, make a deposit (we recommend Bitcoin or any another supported cryptocurrency), browse the boards, and place your bets!
Understanding eSports Betting Odds
If you've ever bet on sports, you'll know how to bet on eSports. The odds and lines available are the same as you're familiar with in other markets, and they're listed the same way (i.e. the favorite has a negative moneyline, and the underdog has a positive moneyline).
The eSports bet types you're most likely to come across include the following:
Straight Bets – Pick the winner, straight up.
Spread Bets – Pick which player/team will beat the spread (rounds, games, etc.)
Totals Bets – Pick whether or not a given player/team exceeds the number of round or match wins published by the book.
Prop Bets – Wager on all kinds of lines specific to each eSports game, like which team gets the first kill, which player scores the most points, which team defeats the first boss, etc.
Futures Bets – Pick the team you think will win a given eSports tournament or event.
Where To Bet On eSports For 18+ Players
As stated, the only way to get a comprehensive eSports betting menu is to gamble on the games at offshore betting sites legally operating outside of the US. This means that betting on eSports online is the only safe, legal way to go about it.
Remember, domestic USA sportsbooks for 18 and up players do not feature eSports as a general rule, and the betting market is actually banned in many states that offer local sports betting options.
To wager on eSports odds, the best sites to use are those listed here, as each one offers a robust selection of the most popular eSports titles, leagues, and events. You can also participate in eSports live betting and eSports mobile betting at these trusted outlets.
What Are The Top eSports Games To Bet On?
For the most part, eSports growth is based on the popularity of the games on offer. As a bettor, if you're investing in eSports as part of your permanent gambling portfolio, you need to focus on the most prominent games being played at the major tournament level.
Per the most current eSports betting statistics, the following games are the most wagered on in the market. And again, the top eSports games are not sports-related thematically, which means that you may need to do some research to familiarize yourself with each title's unique gameplay options and scoring formats before wagering.
Non-Sports-Themed eSports Games
Dota 2 eSports
CS:GO eSports
Fortnite eSports
League of Legends eSports
Starcraft II eSports
Overwatch eSports
PUBG eSports
Hearthstone eSports
Heroes of the Storm eSports
Arena of Valor eSports
Rainbow Six Siege eSports
Rocket League eSports
COD eSports
Valorant eSports
Sports Themed eSports Games
FIFA eSports
Madden eSports
NASCAR eSports
NBA 2K eSports
MLB The Show eSports
NHL eSports
UFC eSports
Live eSports Betting At 18-Plus Sportsbooks
Because eSports competitions take place over extended periods of time – and because the matches themselves can take several hours (like traditional sports) – you can often get live betting lines on eSports.
Live eSports bets allow you to put money on dynamically shifting odds that change in real-time to reflect the ebb and flow of a given contest. For bettors, it's not only the most exciting way to bet on eSports games, it's also a great way to recover bad pre-game bets and boost your bankroll further by doubling down on sure things and wipeouts.
The ability to watch eSports events in real time is crucial when you're betting on eSports live, which is why you need to make sure you have a way to view those games. Fortunately, whether you wager on desktop or mobile, eSports streaming options are widely available for the biggest matchups.
Mobile eSports Betting For 18 And Up Players
Without question, eSports appeals to and even caters to the younger generations of sports fans and media enthusiasts. As a result, most of the audience – whether they're bettors or simply eSports observers – are wagering on and viewing these events via mobile. Without easy access to mobile eSports betting options, a huge number of potential gamblers would simply pass on the market.
Fortunately, all the top eSports betting sites for 18+ players make it a priority to ensure that all their odds and viewing options are available on the go.
You don't need an iPhone eSports app or an Android eSports app, either. These sportsbooks are all mobile optimized and device-agnostic, meaning that you'll get a customized betting experience that fits any make or model of device, conforms to any screen size from the smallest smartphone to the biggest tablet, and runs seamlessly through any modern mobile web browser.
There's nothing to download or update – Just fire up Safari or Chrome (or any other browser), head over to your site of choice, and place your wagers. Whether you want to bet on the go or bet at home, eSports odds are available to you anywhere you've got a mobile network connection.
Betting On eSports Tips
When it comes to the best eSports betting strategies, there's not a whole lot to say. In general, the same standards apply to gambling on eSports as they do to betting on any other sports market. Briefly, the best eSports gambling tips we can offer are the following:
Make sure you understand the rules of each eSports game you're betting on.
Research the past performances of the professional gamers and teams involved in any lines you're interested in.
Remember that eSports team rosters rotate annually (and often during the various event seasons within single calendar years).
Compare the recent head-to-head records of teams playing against one another.
Pay attention to where the events are held, as many areas have eSports arena venues that allow tens of thousands of fans in to watch. Home crowd advantages are as real in eSports as in other sports.
Be selective about the odds you choose to wager on, as each eSports contest can feature dozens of lines and props.
If two teams are evenly matched (i.e. the game is a "coin toss"), take the better payout every time. Remember, sports betting is long-haul proposition, and this strategy will earn you money in the long run.
Don't place huge wagers on single bets. Limit your bets to 1-3% of your bankroll.
Don't chase losses. If you lose a bet, don't try to make up that lost money by gambling on a line you would have otherwise skipped. Live to bet another day!
Don't bet more than you can afford to lose.
18+ eSports Betting Banking Options
The top 18 and up sportsbooks all have a host of bet funding options that allow you to quickly and easily top off your bankroll so you can wager on all the best eSports action of the day.
For immediate deposits, cryptocurrency, credit, and debit options are best, but more traditional methods are also available. Not every 18+ eSports betting site has every banking option, but they all support Bitcoin, credit, and debit payments.
Typically, you'll find the following avenues to get your account loaded up with funds:
Altcoins (Bitcoin Cash, Litecoin, Ethereum, Stellar, Ripple, etc.)
QB Direct (QuickBit)
Credit Cards (Visa, Mastercard, American Express)
Debit Cards
International Gift Cards
Cashier's Checks
Money Orders
Bank Wires
Person-To-Person Services
Account Transfers/Vouchers
For same-day payouts, we recommend using cryptocurrencies like Bitcoin and others. These also come with no added fees, the most versatile deposit and withdrawal limits, the best eSports bonuses, and heightened transaction security due to their quantum-hacking-resistant blockchain protocols.
Please note that to claim eSports betting payouts, you will have to prove your identity, as all the top sites employ KYC (Know Your Customer) standards to combat fraud and ensure safe, secure financial transfers. Your personal information is kept private and is never sold to third parties.
How To Watch eSports
If you bet on eSports, you probably watch eSports. After all, you wouldn't bet on a football game without making it a habit to watch football, right?
In order to stay up on the eSports schedule and its many results, you can follow various big leagues at the ESPN eSports page, but the best option is to find the official streams and eSports VODs (video-on-demand replays) at various league and eSports sponsor sites.
Every team and professional imprint has a dedicated eSports Twitch channel, and YouTube eSports archives are a great way to catch up on any action you've missed.
---
18 And Up eSports Betting FAQs
Can I bet on eSports?
Yes! As long as you use the top betting sites listed here, you can wager on eSports online and win real money. Remember, domestic US 18 and up sportsbooks are very thin on eSports odds – if they offer them at all. For betting on eSports games, international sportsbooks are the only game in town.
Is eSports betting legal?
As long as you use any of the top eSports betting sites listed here, wagering real money on eSports action is legal and safe. There are no US gambling laws that bar individuals aged 18 and up from betting on eSports, and 48 US states have no specific laws against the practice, either.
Washington is the only state that outlaws all online betting, and while these laws are not enforced, we insist that you follow all local mandates and proceed only with your own caution.
Are eSports gambling sites safe?
Absolutely, but only if you use the best, most reputable operators in the business.
The sites we recommend have all withstood the test of time in the industry, have been serving millions of US customers for years, and offer guaranteed payouts for all their thousands of daily betting lines.
Further, these sites use the latest in encryption technologies (SSL, TLS), ensuring that your betting activities are secure and that all your private information stays private.
Are eSports sportsbooks legit?
Yes, the highest-rated eSports gambling operators are all completely legitimate enterprises.
These sites operate legally within the industry, hold all the requisite licenses and regulatory credentials, are regularly audited for fail-play iGaming compliance by noted industry watchdogs, and always go the extra mile to ensure that all their customers get an equitable, welcoming gambling environment when they sign up and bet real money.
How old do I have to be to bet on eSports?
To legally wager on eSports at any of the top offshore betting sites, you only have to be 18 or older. As long as you're 18 and up, all the most reputable operators in the industry will accept your membership.
Please do not sign up if you're under 18, however, as this would violate your betting site's terms of service and will result in your betting account being banned.
Is eSports a sport?
Is auto racing a sport? Is darts a sport? Is bowling a sport? That's not up to us.
Of course, eSports is highly competitive, takes extensive dedication and training for top players to turn pro, and requires quick thinking and excellent hand-eye coordination. By those metrics, we would argue that eSports is absolutely a legitimate sport.
Plus, by all other metrics, eSports is clearly the fastest-growing sport in the world – which is why it's also the fastest-growing betting sport in the world!
How much do eSports players make?
As with any sport, it depends on the leagues and the skill levels of the players in question.
Some small-scale eSports imprints have annual salaries in the $5000 range, while the top players on the top teams can earn upwards of $500,000 per year (plus tournament winnings).
Most eSports players won't quit their day jobs, but the best players in the world make a very nice living.
What does eSports stand for?
The term "eSports" stands for "electronic sports." Of course, its meaning is deeper than that, as the eSports category encompasses all competitive multiplayer games, most of which aren't even sports-themed.
How do eSports teams make money?
There are several ways that eSports teams make money. The first is through sponsorships, where large commercial brands help fund the teams in question.
Another way eSports teams make money is through winning tournaments and taking home big prizes for finishing among the events' top performers.
Various eSports teams even get a cut of the gate at live events, and some earn significant revenues from advertisements on their eSports streams and eSports VOD channels.
How big is eSports?
It may surprise you to learn that eSports is a multibillion-dollar industry. In fact, the preeminent eSports event of the year – the League of Legends World Championship – has more annual viewers than the Super Bowl!
Hundreds of millions of fans watch eSports games religiously, and many of those fans have become eSports bettors. Without question, eSports is experiencing more rapid growth – and more sustainable growth – than any other sport on the planet.
How big is eSports betting?
This one is harder to pin down, but eSports bettors are estimated to turn an annual handle in the hundreds of millions of dollars, and that number is only going to increase in the years to come.
What is eSports skin betting?
For the eSports betting market, skin betting is irrelevant.
However, for casual gamers who participate in amateur eSports activities, skin betting is a way for players to bet skins (i.e. in-game aesthetic accouterments) on various game outcomes.
These wagers use in-game currency as opposed to real-world money, and they offer a fun way for friends and acquaintances to put a little bit more "oomph" on the line when playing against one another.
What is eSports fantasy betting?
Simply put, eSports fantasy betting is the same thing as fantasy sports betting (DFS, fantasy football, etc.).
Essentially, groups of friends can create clubs where each holds a draft within a given eSport game market, picking players and teams. Depending on how those players and teams do in real life, your fantasy eSports team will be awarded points, and the goal is to get the most points over the allotted period of time.
Some commercial companies are starting to monetize fantasy eSports, but this is a nascent market and offers much less appeal than basic eSports betting at online 18+ sports betting sites.