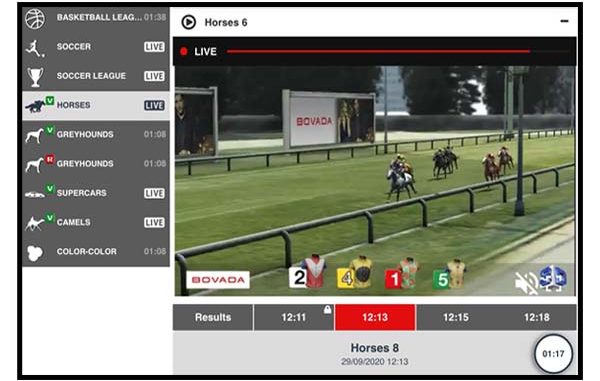 Now that the US sporting leagues have resumed, some bettors are sleeping on virtual sports while others take full advantage of the betting platform. 
Virtual sports date back to 1961 when John Burgeson first used an IBM 1620 and a random number generator (RNG) to determine a game's outcome. Since then, industry professionals have fine-tuned the RNG's and added slick graphics to attract bettors to play their games. Since its early conception, technology has seen a substantial jump, and today's virtual sports look more like fancy digital casino slots rather than outdated Atari games. 
Today virtual sports betting is so popular that many online sportsbooks have their own dedicated section for virtual games. You may also find similar renditions of virtual sports at domestic sports betting sites. Popular online virtual sports include soccer, car-racing, horse/camel racing, and basketball, among others. 
Virtual sports differ from sports simulations, because the teams, players, and organizations are all made-up and don't exist in real life. Sims are often based on recent stats and contain entire teams and players in the virtual landscape. 
Betting on virtual sports opens a new realm for casual bettors that don't follow traditional sports. Some online sportsbooks will accept US bettors over the age of 18, while most US domestic sportsbooks require patrons to be over 21. 
Depending on the virtual sport you are betting on, there are different factors to consider. Since the players, stats, and outcomes are all randomized by RNG's, the odds give us the first clue as to which team or horse is favored. It is important to note that the favorite does not always win; in fact, the favorite often loses with racing. 
When placing a bet on a virtual event, it is important to know that the RNG's will determine the outcome and that most of the time, you will only get to view a short portion of the game, unless it is an event like a horse race that is over in a few minutes. 
There are also several ways to bet on virtual sports, much like the sports they are virtually mimicking, racing often offers parlays, exacta, trifecta, and over/under, winner, place, and show odds. Basketball, football, and other sports provide money line odds but no spread or over-under betting. For someone looking to get into sports betting, virtual sports are a great start. 
Based on current US gambling laws, online sportsbooks can legally offer online betting services to anyone over 18; however, some state laws forbid the services from operating in their state. To learn more about your state gambling laws, see our 18+ US sports betting states guide.