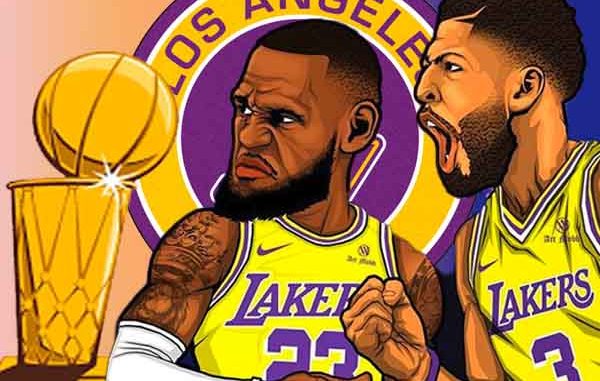 The NBA playoffs have finally reached the Conference Finals, and only four teams remain; the Los Angeles Lakers, Denver Nuggets, Miami Heat, and the Boston Celtics. The Lakers are currently leading their series against the Nuggets (2-0), while the Heat is presently ahead in their Conference Championship (2-1). 
The Lakers seem primed to win their first Championship since the 2010 Lakers won it all with NBA Legend Kobe Bryant. Of course, the 2020 Lakers are stacked with new talent LeBron James (2nd year), Anthony Davis, Rajon Rondo, and Dwight Howard, so it should come as no surprise that they are bound for the Finals.

Betting on the NBA has long been available to US bettors looking to dunk some additional money into their bankroll. Odds are given for each matchup, but there are also other ways to bet on the game, including futures, props, and more. Below are the current futures offed at Bovada's Sportsbook. 
NBA Championship Winner – 2020
Los Angeles Lakers

-425

Miami Heat

+550

Boston Celtics

+675

Denver Nuggets

+4000
As you can see, the Lakers are the heavy favorites at -425 to win the 2020 NBA Championship. However, the value in the Lakers' odds is not as good as taking Miami at +550. A $100 bet at -425 would only produce winnings of $23.53, whereas a $100 bet at +550 would win $550. 
Seasoned sports bettors often shop betting lines from local bookies and online sports betting platforms. 18+ online sportsbooks typically produce the best odds when compared to in house sports betting facilities. Online there are also fewer restrictions when compared to brick-and-mortar sports betting locations. Besides the fewer restrictions, you can find sports odds on just about any competition imaginable, including the Olympics, International soccer, virtual sports, and much more. 
Lebron James is arguably the best basketball player of the decade. He already has three NBA Championship rings on his precious ball shooting fingers; however, it is looking like he will have to beat one of his old teams led by Jimmy Butler to score number four.