18+ Guide To Betting On UFC Odds In 2023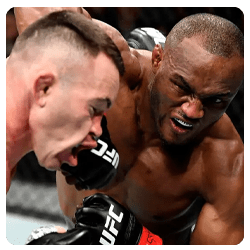 The Ultimate Fighting Championship (UFC) began in 1993 as a one-night tournament that featured very few rules besides restrictions on eye-gouging and biting and requiring fighters to remain inside the Octagon, an eight-sided ring with fenced walls. Today, the UFC features multiple rounds, rules, weight classes, and women's fighting, and is the world's top mixed martial arts (MMA) promotion.
Read through the rest of this 18+ guide to betting on UFC odds if you are interested in the best legal options and the top over-18 sportsbook sites. This UFC-specific guide also goes into detail about how the odds work, how to navigate over-eighteen sportsbooks, and various tips on what betting on the Ultimate Fighting Championship entails.
Is Legal To Bet On UFC Fights At 18 & Over?
Yes. 18, 19, and 20-year-old bettors in the United States can bet on UFC fights. A few US states offer domestic sports betting to 18-and-up patrons. Sportsbooks located overseas can take action on UFC fights over the Internet from bettors inside of the USA starting at 18 years old because there are no state or federal laws in place to stop it. For more information on state or federal gambling laws, please visit our laws and state sections via the menu at the top of this page.
Best UFC Betting Sites For Over 18
What Is The UFC?
The first Ultimate Fighting Championship pay-per-view event was produced by a group of investors (WOW Promotions) that included the Gracie Jiu-Jitsu family from Brazil. The competition was inspired by the Gracie family's open challenge videos, where they faced practitioners of other martial arts disciplines – a rarity during pre-MMA times.
The UFC combatants battle inside of an octagon-shaped ring aptly titled the "Octagon," which is surrounded by fencing and padded posts. The first several UFC events were tournament style, with fighters required to win multiple bouts over the course of a few hours.
There were few rules and no rounds, so fights could last upwards of thirty minutes, with most of the match taking place in grapple holds on the ground. Fighters often had to forfeit later matches due to injury or fatigue, thus paving the way for weight class divisions, rounds, and further regulation that improved the sport.
To reach the top of the sport in the UFC, fighters needed to cross-train in multiple disciplines, with focuses on Brazilian Jiu-Jitsu, Greco-Roman Wrestling, and striking arts such as boxing, karate, and kickboxing. As a result, mixed martial arts (MMA) became a thing and grew in popularity.
In 2000, Dana White and the Fertittas family purchased the UFC and have molded it into the top MMA promotion on the planet by venturing into television deals with ESPN and producing a few household names along the way. Betting on the UFC is also the top draw in fighting sports as it features more high-profile events than boxing or other MMA promotions.
UFC Betting Odds Explained
UFC events occur often and offer many chances for 18 and over gamblers to bet on MMA fights, but how do UFC odds work? They're actually quite simple. Using the following UFC betting line as an example, we are offered money line odds on each fighter.
Nunes vs. Anderson
Amanda Nunes -900
Megan Anderson +550
The money line odds offer 18+ UFC bettors the chance to lay some action on which fighter they think will win. Another component of the moneyline odds is that they reveal how much can be won by betting on each fighter vs. how much money needs to be risked.
For instance, Nunes is favored to win because her UFC Vegas odds are listed in the negative. A wager of $900 is required to win $100 on Nunes. Because she is so heavily favored to win, sportsbooks aren't willing to risk much against the prospect of her losing.
In the realm of money line odds, the most money can be made by wagering on underdogs. A bet of $100 on Anderson to win will earn a $550 cash payout if she can get it done. As the event approaches, UFC prop bets will appear for the most popular bouts, but money line odds are always for the first betting option to appear on the boards.
How To Bet On UFC Fights At Eighteen
The sportsbook sites we recommend for 18 and over bettors require signing up for membership before any bets can be placed. Locate the join button on the main page and enter the personal data required to create your profile.
The next section will ask for your first deposit for betting at the sportsbook site. There are multiple funding options and bonuses to consider, and we detail those in later sections in this guide. Once funding is secured, make your way to the sportsbook section of the site and locate the UFC odds.
Inside, you'll find lines on the next UFC pay-per-view, UFC Fight Night odds, prop bets, and even UFC futures with fantasy matchups that haven't been booked yet. There are also lines on just about every other major sport, including odds on boxing, multiple options for betting on the NFL, a plethora of college football odds, and much more.
---
How To Make The Best UFC Bets
Don't chase underdogs – We know underdogs can be profitable, but they can also drain your wallet. Remember, there's a reason that underdogs are not favored to win, so wager on them sparingly and only when the research strongly suggests they've got a fighting chance.
Manage your bankroll – Creating a betting limit is key to longevity for under-21 gamblers. Set a limit of 3% of your total bankroll for each bet, and you'll remain in the UFC betting action for months to come.
Do your research – Don't come into UFC betting blindly. Watch old fights on the UFC app and compare the statistics against opponents of similar sizes and disciplines. Research matters, and it is the absolute best way to get an edge when placing a bet on UFC odds.
Shop the odds – Make sure to join up with more than one 18+ sportsbook. The odds will be different at each, which means that one will offer an easier path to victory. If one UFC betting site has -800 odds on Conor McGregor winning, and another has -650, the latter requires a lower bet to be made for the same payout.
UFC Live Odds
Traditional betting requires that wagers be placed prior to the start of the contest. UFC live odds for 18 and up allows bets to be made throughout the entire MMA fight. For the big fights, prop bets, round-by-round winners, knockdown totals, and much more can be updated as the fight progresses. Live betting on UFC matches is available at most of the sportsbook sites listed on this page
Best UFC Betting Apps For Under-21
The sportsbooks that we recommend to 18 and up bettors on this page offer the best UFC betting apps on the market, but they don't require a visit to the Google Play or App Store. These applications are web-based, and merely require clicking on one of the 18+ sportsbook links in the table above using an up-to-date mobile browser (Safari, Google, Opera, Chrome, Firefox).
All of the UFC Vegas odds at the standard sportsbook site are ported to the mobile version so that UFC bets can be made just outside of the Octagon or just outside of your back door. All you need is a modern device (iPad, iPhone, Android) and some money to wager with, and you've got all you need for mobile betting at 18.
Betting On Simulated UFC Fight Odds
A recent phenomenon in online sports betting has been the odds produced on simulated sports games. MMA is one of the most popular sports on the planet, so it was only natural that betting lines involving the video game UFC 4 from EA Sports would be included. Check out our betting on sims section to learn more about this new development.
UFC Bitcoin Betting
The top banking option at all of the UFC sportsbook sites we recommend to 18 and over bettors is Bitcoin (BTC). Sportsbook bonus offers can triple when deposits are made with BTC, and it is the only way 18+ bettors can secure a same-day withdrawal.
Over-18 sports betting sites are able to process Bitcoin and other cryptocurrencies quickly because there are no regulatory hurdles to process and slow the transaction down. Below are other types of cryptocurrency that are accepted at sportsbook sites that allow for 18 and over members.
---
18 & Up Sportsbook Deposit & Withdrawal Options
We've already detailed the benefits that Bitcoin and other forms of crypto can offer over-18 bettors and sportsbook sites, but not everyone has adopted these newer funding methods. It is for this very reason that we require our premium 18+ UFC betting sites to accept a wide variety of banking options, including the following:
Deposit: Credit Card, Debit Card, Wire Transfer, Third-Party Money Transfer Services, Cashier's Check, Zelle (USD-to-BTC), MatchPay, Cryptocurrency
Withdrawal: Wire Transfer, Cashier's Check By Courier, MatchPay, Cryptocurrency*
*The only method that allows for a same-day withdrawal
---
Bonus Offers At Over-18 UFC Betting Sites
When making a deposit at a top-rated UFC sportsbook site, each one will offer a slightly different promotional offer, but all of them will involve matching a portion of the deposit total. Sportsbook bonuses match between 25% to 100% of the deposit amount and can enhance UFC betting bankrolls by over $1,000 if played correctly.
Accepting a bonus is not a requirement to become a member of an 18+ UFC betting site, so read through the terms and conditions before agreeing to any promotional offer.
Top UFC Fighters

Retired

Conor McGregor
Jon "Bones" Jones
Khabib "The Eagle" Nurmagomedov
Brock Lesnar
Amanda Nunes

Royce Gracie
Rhonda Rousey
Ken Shamrock
Frank Shamrock
Tito Ortiz
Chuck "The Iceman" Liddell
Anderson Silva
Georges St-Pierre
Other Major MMA Promotions With Betting Odds
Bellator MMA
Legacy Fighting Alliance
ONE Championship