US Sports Betting Laws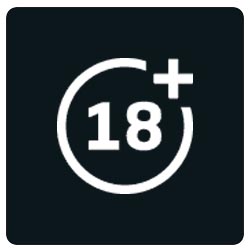 The United States has various laws that effectively dictate what gambling operations can occur within the Land of the Free. This page describes 18+ betting sports betting and the federal laws that coincide, whether for online or physical sportsbooks. Sports betting laws differ by country; domestically, betting can be addressed at the state or federal level.
The United States' highest court assisted in the overturning of a PASPA in 2018, a federal law that prevented domestic state-regulated wagering operations in most of the country. Since the overturn, states have increased interest in the betting market and are looking to reap any and all benefits from the law's de-federalization.
United States Sports Betting Laws
Following the repeal of PASPA, several US states have announced their plans to launch sports gambling venues within their borders. Nine states have active operations, another two states have passed legislation to allow wagering but have yet to launch, and multiple states have proposed legal betting bills.
Often, legislation concerning betting in states includes clauses describing who will regulate and oversee operations, who may obtain an operator's license, provisions for working at the venue, consumer tax configurations and where the tax revenue will go, what types of wagering will be made available, wagering restrictions, as well as, state minimum betting ages, and violation penalties.
Within these pieces of legislation are provisions that allow non-state residents visiting the state the capability to wager, as well as general prohibitions toward minors under eighteen who participate in betting.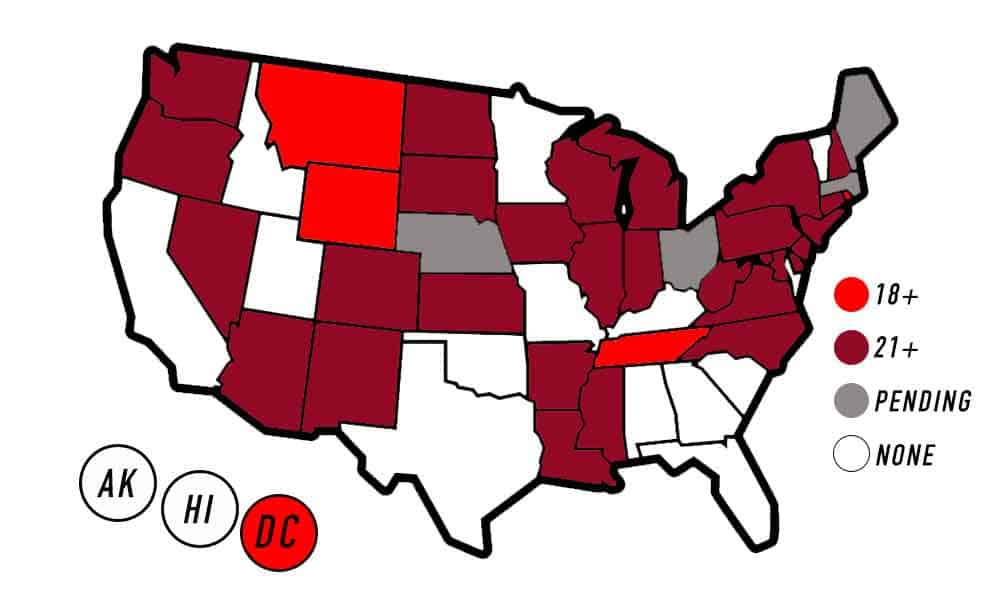 Many US States are interested in regulating domestic sports betting and utilizing its legalization as extra tax revenue.
Certain states are inclined to allow young bettors as old as eighteen to wager, such as:
Most states only allow older gamblers who are at least twenty-one:
However large the interest in legal sports gambling is, there are certain states that forbid sports gambling to occur within their borders, such as Alaska, Hawaii, Utah, and Vermont.
Repeal of PASPA – Repeal of Barriers
The Professional and Amateur Sports Protection Act (PASPA) limited domestic wagering by excluding these offerings in states outside of Nevada and other grand-fathered states. This allowed PASPA to effectively ban sports gambling for 25 years in most of the US, and through numerous litigation suits against grand-fathered states like Oregon, Montana, and so on, major athletic leagues and associations prevented these states from offering betting – making Nevada the sole source for state-based legal sports wagering.
PASPA created a provision to extend a deadline one year after the law's effective date to allow states to introduce their own sports gambling legislation. However, relevant states, including New Jersey, failed to produce before the deadline. This allowed the prevention of introducing new or updated betting legislation at the federal level.
New Jersey eventually pushed back on this law by filing a lawsuit for discrimination, permitting a voter referendum to change the state's constitution, and passing laws to allow sports wagering in the state regardless.
This stirred major league commissioners into action, citing PASPA violations to stop NJ. The issue was dealt with in lower circuit courts which ruled in favor of the leagues. After numerous appeals, the case finally received attention from the Supreme Court in 2016.
In 2018, SCOTUS ruled in favor of New Jersey on the 14th of May and officially threw PASA out. This repeal allowed states equal rights concerning the choice of offering or outlawing this form of gambling within their state lines.
Other Federal Laws Affecting Betting: Federal Wire Act
Update:  On January 14, 2019, the Department of Justice issued a reversal to their 2011 interpretation of the Wire Act, stating that the Federal Wire Act prohibits all forms of state-regulated online betting. The fallout from this decision has yet to be determined in its entirety. However, many expect states and gambling providers to take legal action.
---
The Federal Wire Act of 1961 was also known to accompany PASPA in its prohibitive nature during the 2000s by cutting access to online gambling. However, the law was written in 1961, long before online access, so its application to the internet was not entirely explicit but rather interpreted.
The Wire Act combated illicit mafia activities, which included racketeering through bookies and game-fixing through the early to mid-1900s. The Act addressed interstate communications regarding sports betting via wired facilities, which, at the time, encompassed telegraphs and telephone calls.
However, in 2011 the Department of Justice released a formal opinion memorandum that revisited the Wire Act's modern interpretation and freed domestic US-based online non-sports gambling from its prohibition.
It would not be until PASPA's formal repeal in 2018 that the Federal Wire Act would come into question once again. As of this writing, the Act has been determined to only prohibit US-based interstate wagering, not state-regulated online sportsbooks.
Online Sports Betting Laws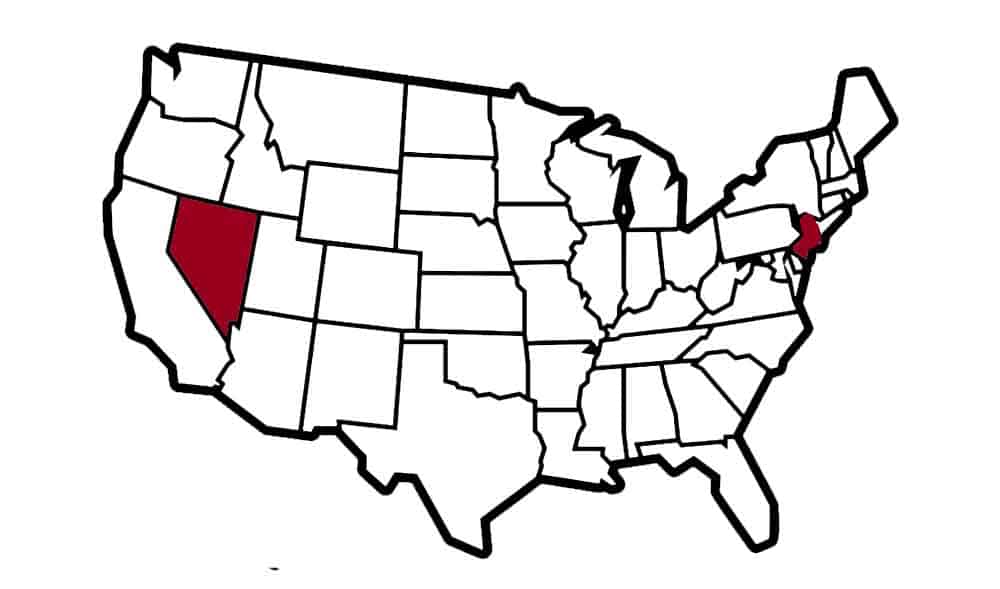 New Jersey and Nevada are the only states in the US with an operational online sportsbook for their state residents and visitors to enjoy. States considering the utilization of online betting platforms will more than likely implement geo-targeting features to prevent out-of-state bettors from accessing the state's offers and to prevent violating another state's rights to prohibit or permit their own state-regulated offerings. Massachusetts is awaiting the approval of its state-regulated online sports betting bill.
Most states allow their residents to freely access offshore bookmakers without explicitly allowing or forbidding it. However, Washington strictly prohibits residents from gambling online, even at licensed offshore brands. This situation is due to the state writing specific laws to prohibit bettor's access to offshore online sportsbooks.
Licensed or regulated online sportsbooks hosted overseas are legally acceptable for American bettors to access. This remains accurate so long as the state in which the bettor resides or visits does not expressly prohibit access via a written law.
Frequently Asked Questions
Does This Mean Anyone Can Bet in the US?
Those over the age of eighteen can legally bet online at 18+ sportsbooks, as well as, at domestic physical locations which allow 18-plus sports betting. Within states with 21+ sports gambling, bettors must be at least twenty-one before placing bets. There are no specific stipulations or requirements for betting other than these minimum age requirements.
Will Sports Betting Become More Popular?
In our opinion, yes! As more sports fans and fantasy sports fans come together and realize the potential for entertainment betting can provide, it is sure that sports gambling's popularity will grow in the US. There is evidence in the United Kingdom of the popularity of wagering as a pastime. Many companies are anticipating the explosion of interest in betting, from TV cable providers to land-based casinos.
How Do I Find Out My State's Sports Betting Laws?
Americans interested in staying up to date on the latest legislative news in their state can visit state government-run websites, await breaking news online, employ bill trackers on specific legislative pieces in motion, or bookmark and utilize our U.S. States allowing 18 and up sports betting resource page to learn the most current information regarding individual states and their sports gambling status. Once fully developed, our resource guide will describe exactly the stance each state has on sports betting with detailed information crucial for bettors.
What Sports Can I Even Bet On?
Online portals can offer a wide variety of betting entertainment over local bookmakers. The international brands we recommend offer wagering capabilities for Tennis events, Golf tours, Dart games, E-sports tournaments, MotorSport races, Table Tennis matches, Hockey games, Soccer, Basketball, Football, Baseball, Virtual Sports, UFC/MMA, Olympic Games, Winter Sports, Gaelic Games, Politics, Horse Races, Rugby, Snooker, and Cricket, among others.  Oftentimes, online brands offer live betting options for events occurring around the world in real time, including the upcoming Super Bowl.
What Can't I Bet On?
Internationally speaking, brands tend to cover all the bases. Therefore, if you cannot find the niche sport or event you are looking to bet on under one provider, then it is more than likely another will offer it or that it is so obscure few brands will provide it. Now, this changes domestically, as states can include stipulations that forbid betting on local or state college teams. These terms are to protect vulnerable non-paid athletes and individuals from bribery and throwing games.