New Jersey 18 and Up Sports Betting Sites For 2023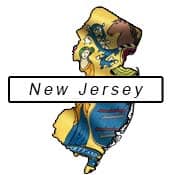 Outside of Nevada, New Jersey is one of the states that has been the most open-minded and progressive when it comes to granting residents the freedom to gamble with their hard-earned money. NJ led the charge in fighting the unconstitutional PASPA law and now states are free to legalize and license sports betting inside their jurisdictions.
Here you'll find the New Jersey land-based and online sportsbooks that operate inside state lines. In addition, we provide an overview of New Jersey's sports betting laws and see whether there are any pending bills in the state legislature related to wagering on sports. Look no further than our guide to find the best betting sites in NJ For ages 18 and up.
Can you bet on sports at age 18 in New Jersey?
You must be twenty-one years old to bet on sports at the state-licensed land-based and online sportsbooks in New Jersey. However, not all is lost, as 18 and over bettors can wager at the international sportsbooks operating online that we list within this guide. Be sure to read through the terms and conditions of membership, as many offshore sportsbook sites do not accept members from NJ.
Can you bet on the Super Bowl in New Jersey at 18?
No. The current minimum gambling age to wager on Super Bowl odds in NJ is 21 at domestic sportsbooks. The offshore sports betting sites that we endorse do not accept members inside of New Jersey's borders.
Is it legal to bet at 18+ online sportsbooks in New Jersey?
The online sportsbooks offered by the state of New Jersey require you to be at least 21 years old. Many offshore sportsbooks refuse to accept NJ residents because state lawmakers threatened to go after international operators accepting Garden State bettors. This caused many of the reputable online sportsbooks we recommend to withdraw from the NJ online sports betting market.
Currently, if you wish to bet on sports using one of New jersey's state-regulated online sportsbooks, you have to be at least 21 years old.
Are sports betting sites safe for New Jersey residents?
The state-regulated brick-and-mortar and online sportsbooks in New Jersey are 100% safe to use for wagering real money on sports. Some reputable offshore books do not offer betting lines to NJ residents or visitors, so read through the terms of membership carefully prior to placing a wager. The sites we recommend on this page are perfectly safe and have passed our exhaustive vetting review.
Did the nullification of PASPA set the stage for legal sports betting in New Jersey?
Yes. The US Supreme Court repealing PASPA not only opened the door for sports betting, but one could say that New Jersey led the charge in the fight to give the sports betting states the right to decide whether to offer state-regulated sports gambling from within their jurisdiction. It was not an easy road, however. New Jersey's fight began in 2011 and was not won until May 2018:
2011- State Senators Raymond Lesniak and Stephen Sweeney lead a lawsuit to challenge PASPA, but it was rejected by the US District Court.
2012- The NJ legislature enacted the Sports Wagering Act, allowing sports betting in the state's casinos and racetracks.
2012- The NBA, NFL, NHL, MLB, and NCAA sued the state under PASPA.
2012- The law is revised with the approval of the Justice Department. The law passed the state legislature but was vetoed by Gov. Christie.
2014- Gov. Christie changed his mind and signed the legislation into law, partially repealing NJ's own sports betting ban to allow their casinos and horse betting tracks to offer sports wagering despite PASPA.
2014- The five leagues sued the state again. The District Court and Third Circuit ruled in favor of the leagues.
2016- New Jersey petitioned for a writ of certiorari from the Supreme Court.
2017- The Supreme Court accepted to hear the case. The case is renamed Murphy v. National Collegiate Athletic Association after Phil Murphy's election as NJ Governor.
2018- The Court announced a judgment in favor of Gov. Murphy and the state of New Jersey, repealing PASPA.
New Jersey Sports Betting Laws/Pending Bills
New Jersey has legalized and authorized land-based, online, and mobile apps for state-licensed sports betting. The state legislature does not currently have any sports betting laws introduced to consider during this session at this time.
State-Licensed Sportsbooks in New Jersey
There are numerous state-licensed land-based and online/app-based sportsbooks available in New Jersey ever since the repeal of PASPA. You must be at least 21 years of age to bet on sports at any of the state-licensed sportsbooks below.
Online/Mobile App
888sport
BetAmerica
BetStars NJ Sportsbook
Caesars Sportsbook
DraftKings Sportsbook
FanDuel Sportsbook
Golden Nugget
Hard Rock
PlayMGM
PointsBet
Resorts
SugarHouse Sportsbook
William Hill Sportsbook
Land-Based
Borgata
Bally's
Caesars
Freehold Raceway
Golden Nugget
Hard Rock AC
Harrah's
Monmouth Park
Ocean Resort Casino
Resorts AC
The Meadowlands
Tropicana
Legal Football Betting Options For 18+ In New Jersey
18 & Up College Football Betting In New Jersey
Even though there are no laws on the books preventing offshore sportsbooks from offering 18+ gamblers options for betting on College Football, they do not offer their services in the state of New Jersey. We advise either traveling to another nearby state or waiting until the age of 21 to bet at local domestic sportsbooks that allow for NCAAF betting lines and College Football Playoff odds, although what you'll find there is not as robust as the offerings presented offshore.
Over 18 NFL Betting In New Jersey
Betting on the NFL at 18+ falls under the same scenario as mentioned above for NCAA Football. New Jersey has several options that we've listed on this page for domestic sports gambling on NFL odds and Super Bowl betting at the age of 21. The offshore sportsbook sites that cater to most of the USA do not offer their services in NJ, so if you want to take advantage of their many perks, including NFL betting at the age of 18, travel to another state is required.
New Jersey College and Professional Sports Teams
There are numerous sports teams in New Jersey at both the professional and collegiate levels. The state is home to four major pro teams (three of which are New York teams) and eight colleges with teams competing in Division I athletics. Keep in mind that you are not allowed to bet on NJ college teams at state-licensed sportsbooks, but you are permitted to do so at the betting sites we recommend (provided you are outside of state lines).
NCAA Division I Teams:
Fairleigh Dickinson Knights: Northeast (Teaneck)
Monmouth Hawks: MAAC (West Long Branch)
NJIT Highlanders: Atlantic Sun (Newark)
Princeton Tigers: Ivy League (Princeton)
Rider Broncos: MAAC (Lawrenceville)
Rutgers Scarlet Knights: Big Ten (New Brunswick)
Saint Peter's Peacocks and Peahens: MAAC (Jersey City)
Seton Hall Pirates: Big East (South Orange)
Major Professional Sports Teams:
New Jersey Devils: NHL (Newark)
New York Giants: NFL (East Rutherford)
New York Jets: NFL (East Rutherford)
New York Red Bulls: MLS (Harrison)
Legal Minimum Gambling Age in New Jersey
The New Jersey legal minimum gambling age requirement for online and land-based casinos and sportsbooks found in Atlantic City and anywhere in the state is 21 years old. This includes all gambling on slot machines, table games, poker rooms, and sports at state-licensed casinos and sportsbooks from anywhere in New Jersey.
Other Forms of Legal 18+ Gambling in New Jersey
When it comes to legal gambling options available to residents who are at least 18 years old in New Jersey, you can bet on horse racing as well as participate in both bingo and the state-run lottery. Additionally, the betting sites we recommend also have 18+ online casinos and poker rooms that allow you to sign up and play at 18 years old, though you have to be physically located outside of NJ borders in order to safely play at these sites.
Additional Resources
If you live in New Jersey and feel as though your sports betting or casino gambling has gotten out of hand, we urge you to contact the Council On Compulsive Gambling Of New Jersey to get help immediately and curb problem gambling in the process.