New Mexico 18 and Up Sports Betting Sites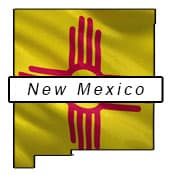 In October 2018, New Mexico became the 6th state to offer sports betting at the local level following the US Supreme Court repeal of PASPA in May of the same year. Despite the state not passing a bill, the Santa Ana Star Casino and Hotel was able to offer sports betting due to it being included in a tribal pact with the state and became the first to begin accepting wagers in the state.
But this only for land-based sportsbooks. Can NM adults who are at least 18 years old legally place real-money bets on sports online and on mobile devices? We answer that question, provide our recommended list of 18+ online sportsbooks, and rundown pending bills and laws related to sports betting in the state of New Mexico.
Top Rated Online Sportsbooks For 18+ New Mexican Bettors
Can you bet on sports at age 18 in New Mexico?
The minimum sports betting age in New Mexico is age twenty-one and not eighteen years old. While the legal sports betting sites we recommend allow you to sign up at age eighteen, we recommend following the minimum age requirements that the state legislature has deemed appropriate, even though any legal recourse is highly unlikely.
Is it legal to bet at 18+ online sportsbooks in New Mexico?
There is no sports betting laws in New Mexico or at the federal level that prevents you from placing a bet at any of the 18 and up online sportsbooks we recommend for online and mobile wagering for sports. Each one is located offshore and outside the jurisdiction of the United States. We still recommend following the required age of 21 for your state but must be honest in saying that there has never been anyone charged at 18 years of age for betting at a sportsbook located offshore.
Are sports betting sites safe for New Mexico residents?
Not every sports betting site that you'll find online can be trusted, which is why we created this site. We want to help residents from New Mexico and all states find the safest age 18 and over sports betting sites available online. Each site we recommend is 100% and you'll have no issues when wagering at any of them. We can't say the same for all sites you'll find online but we can safely say that about the sportsbooks above.
Did the PASPA repeal pave the way for legal sports betting in New Mexico?
Yes. Thanks to PASPA being repealed by the US Supreme Court in May 2018, and because of the wording of the state-tribal casino pact, sports betting at the state level became officially legal in tribal casinos throughout New Mexico and those wanting to receive a tribal sportsbook license can begin the application process.
New Mexico Sports Betting Laws/Pending Bills
Currently, New Mexico has only one bill related to sports betting that has been introduced in 2019. Unfortunately, this bill would eliminate any possibility of the state lottery potentially offering state-regulated sports wagering in the future.
State-Licensed Sportsbooks in New Mexico
The Santa Ana Star become the first state-licensed sportsbook located in New Mexico in October 2018, and they were joined by Buffalo Thunder in March 2019. To date, these are the only two sportsbooks located in the NM jurisdiction and the state does not currently offer any state-regulated online wagering.
Land-Based
Buffalo Thunder
Santa Ana Star
New Mexico College and Professional Sports Teams
Residents of New Mexico currently root have two colleges competing in sports at the NCAA Division I level but the state does not have any franchises as members of a major professional sports league. Below you'll find all the teams from New Mexico that will regularly receive betting lines from the sportsbooks we recommend.
NCAA Division I Teams:
New Mexico Lobos: Moutain West (Albuquerque)
New Mexico State Aggies: WAC (Las Cruces)
Major Professional Sports Teams:
Legal Minimum Gambling Age in New Mexico
In order to gamble at a tribal casino in New Mexico and play casino games, including slot machines and table games along with poker, you must meet the minimum required gambling age of at least 21 years old.
Other Forms of Legal 18+ Gambling in New Mexico
However, if you are age 18 and over in New Mexico, there are quite a few legal options available to you in regards to gambling. Age 18+ adults can play bingo, buy lottery tickets, and bet on horse races. Additionally, the 18 and over online sportsbooks, we recommend also have 18+ online casinos and poker rooms that are legally available as well.
Additional Resources
If you or someone you know has begun to develop bad gambling habits that are negatively affecting your everyday financial well-being in New Mexico, please contact the New Mexico Council On Problem Gambling for immediate help.