Types Of NFL Betting Lines At 18+ Sportsbooks
Every fan of professional football between the ages of 18 and 20 has at one time or another entertained the idea of betting on an NFL game. Sorting through the types of NFL betting lines at 18+ sportsbooks is a different story, as beginners can often become discouraged when encountering confusing football odds.
This guide reviews the odds that are available at NFL betting sites for 18 and up, the terminology involved, and what the numbers mean next to each team's name. We also cover the legalities involved with gambling on the NFL at under 21 betting sites in the USA so that readers can safely find reputable sportsbooks.
Is It Legal To Bet On NFL Games At 18?
Yes. There are two options in the USA for 18 and over sports gamblers to bet on the NFL, depending on what part of the country patrons are currently in.
Domestic – Although many states feature regulated domestic sportsbooks that offer NFL betting, very few of them allow for 18-year-old customers to approach the bookie window and lay some action on professional football.
International (Online) – Overseas 18+ sports betting sites like the ones listed in the table below can accept wagers on NFL odds over the web without violating any US gambling laws. That is because there are none to violate!
Best NFL Betting Sites For 18 to 20-Year Old Gamblers In 2023
Types Of NFL Bets for 18+ Football Fans
The following three NFL bet types (point spread, moneyline, over/under) are what will be featured in a standard pro football betting line that over 18 gamblers will encounter at any reputable sportsbook.
They will be listed in that order, but will differ slightly in appearance depending on which NFL betting site patrons are doing business with.
NFL Picks Against The Spread
Point spreads allows for bets on NFL Teams to be made that handicap the matchup by the number of points that they are expected to win or lose by.
Negative point spreads indicate a favored team, while a positive NFL point spread implies an underdog. NFL bets on the point spread will only pay out if the team covers by more or less than the predicted number.
If oddsmakers determine the matchup to be equal, the point spread will be listed as EVEN with bets paying out for simple victories. If the spread hits the exact number, the wager is a push which typically results in a refund.
NFL Moneyline Odds
Many 18 to 20 sports gamblers aren't feeling point spreads and totals, and prefer to simply bet on the NFL team that is going to win the game outright. NFL moneyline odds provide that opportunity, but the underdogs payout much higher than the favorite team.
Once again, negative numbers indicate the favored team and positive moneylines are granted to the underdog, but both franchises can be listed in the negative or positive.
The moneyline also shows the amount that can be won versus the dollar amount wagered, but the math works differently depending on whether the NFL odds are negative or positive. For example:
A positive moneyline merely requires the decimal point to be moved two numerals to the left to reveal the amount of money that can be won by wagering $1. (+250 odds will earn $2.50 for each $1 risked)
Favored NFL teams will payout less than the amount bet on them. For instance, -250 moneyline odds will require bets of $2.50 to net $1.
NFL Over/Under Betting
The final element of a standard NFL betting line is the over/under. This is probably the easiest NFL bet to comprehend as it is merely the number of points that football oddsmakers are suggesting that both teams will combine to score.
If there are odds posted for betting on Thanksgiving NFL games that suggest the Dallas Cowboys and the Tampa Bay Buccaneers will total out at 55.5 points, then wagers can be placed on either side of the over/under.
Given the above scenario, bets on the over will cash in if both the Bucs and the Cowboys combine to score 56 or more. The under will hit if they total out at 55 or less.
NFL over/unders offered in round numbers, for example 47.0, requires totals of 48 or higher, or 46 and lower for a win, while fractions narrow the range to 1 total point of variance. Final scores that land on the exact over/under results in a push.
---
Other Popular Online NFL Betting Options
Outside of the spread, moneyline, and totals, the remainder of NFL betting odds are encompassed by the following two categories which cover all future outcomes as well as occurrences that are not contained within the sidelines of the football field.
NFL Futures
While wagering on any pro football outcome that is scheduled to happen tomorrow or after qualifies as futures betting, the categorization tends to refer to occurrences that will be determined at the end of the regular season or the NFL Playoffs, such as division, conference, and Super Bowl winners.
Futures odds will include all eligible NFL teams or players in a list with moneylines posted next to their names. Wagering options will usually be listed in order from most likely to least likely to win, but look closely because some 18+ sportsbooks only adjust the odds and not the rankings.
NFL futures usually only allow for singles bets, prohibiting the ability to create football parlays or wagering on more than one team to win the Super Bowl. Betting on the NFL Draft also qualifies as futures odds, as lines are up well in advance of the first selection.
NFL Prop Bets
Anything that has ever occurred, or that can possibly happen during a pro football game telecast can be wagered upon in the realm of 18+ NFL prop bets.
Prop bets for the NFL include events that impact the game, as well as outcomes happening outside the field of play, including team and player stats, whether a fan runs on the field, if a player makes a political statement, or literally anything else that offers up a yes or no result.
Super Bowl prop bets are produced in the thousands each January and February leading up to the big game. In fact, it was the Super Bowl that originated the prop bet craze back in the 1980s, and oddsmakers are anxious to create more each year.
NFL Parlay Picks
If 18 and over sports gamblers are interested in upping the odds for higher payouts, investigate the massive cash winnings that NFL parlays can deliver. A parlay bet entails combining more than one wager into one, and due to the lower probability of multiple events occurring, the NFL odds increase and cause for elevated cash totals.
An NFL parlay must include at least two wagers, and many online football betting sites include limits on how many sets of odds can be combined. Also, NFL sportsbooks will differ in what can be allowed for inclusion in a football parlay, but most permit point spreads, moneylines, and the over/under to be combined.
NFL Teasers
An NFL teaser bet works just like a parlay wager, but the customer is allowed to adjust the lines by a pre-determined amount to their liking. For instance, if a gambler places a three-team parlay involving the point spread, the bettor may be offered a 6 point variance from the book to which they can then apply to any or all of the spreads wagered on.
The point spreads can be moved in either direction, but because NFL teasers can be altered for easier wins, the total odds and payouts are lower than simple parlay bets. Again, each online NFL betting sites that caters to 18 and over gamblers will differ slightly in what they do and do not permit to be included in a football teaser.
Round Robin NFL Betting
This is a special type of wager where multiple 2-team bets are compiled into a parlay where only a percentage of the combos need to win in order to receive a payout. Round robin bets payout at a smaller rate than parlays and teasers because the probability of winning is much greater.
NFL Playoff Odds
After the regular season is over and all 14 postseason spots have been filled, betting on the NFL Playoffs at 18+ is a focus of all offshore sportsbooks. Game lines, futures, and prop bets are all in play during the weeks leading up to the Super Bowl, with each NFL Playoff game broadcast nationally for all to see.
With so many eyes focused on the exact same games across the USA, 18 and over football gambling sites emphasize their NFL Playoff odds and also produce enticing sportsbook promo codes that stuff online bankrolls with bonus cash for betting on which teams will advance.
Super Bowl Odds
The most bet upon event and highly viewed single game of the year is the Super Bowl. NFL odds for game lines and prop bets will populate the top over 18 Super Bowl betting sites and take action all the way until the fat lady sings and the winning team is hoisting a Lombardi, all from the comfort of your home – or wherever else you want if you're using mobile sportsbooks!
Of course, you don't have to wait until February to bet on the Super Bowl at 18 years of age. As mentioned above, NFL futures odds for Super Bowl winners are on the boards and taking action all year long, and are often posted prior to the conclusion of the prior season's final game.
---
Live NFL Betting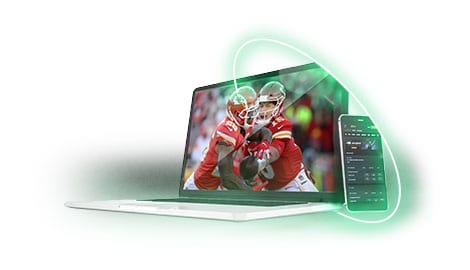 Once the kickoff has occurred, live betting on NFL odds of all varieties are still in play at online sportsbooks that accept eighteen-year-old members.
Most online betting sites don't even require searching for the live odds as games that are accepting in-play action will be featured front and center upon entering the sportsbook.
Check in on any Sunday afternoon and witness the live NFL odds populate the boards once 1 PM kickoffs ensue and get in on the action whenever you choose.