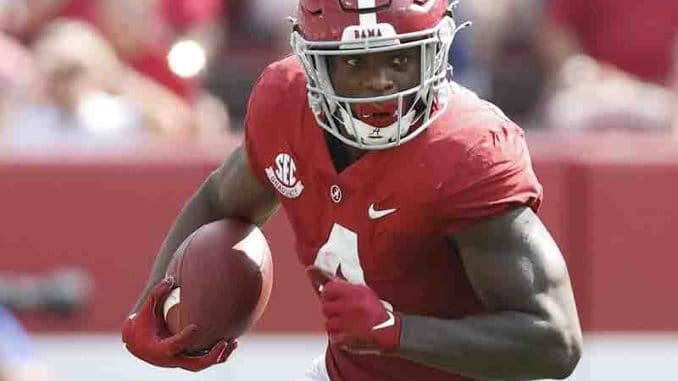 Tonight, the College Football Playoffs National Championship Game will take place at Lucas Oil Stadium in Indianapolis, Indiana, in a pairing of two SEC powerhouse programs, with one of them attempting to win back-to-back titles.
NCAAF oddsmakers have laid it all on the table for this go-round as the current National Championship Game betting lines are holding at -2.5 in favor of the Georgia Bulldogs who lost by 17 to the Alabama Crimson Tide five weeks ago.
What's changed since that time?
Alabama is still coached by Nick Saban, still features a Heisman Trophy-winning quarterback under center in Bryce Young, and holds a 1-0 advantage over Georgia via their decisive victory in the SEC Championship Game last month.
Georgia took care of business in the Orange Boal in the CFP semifinals, jettisoning the Big Ten Champion Michigan Wolverines out of the playoffs by a score of 34-11.
The Crimson Tide also held serve in the semis, taking out the Cincinnati Bearcats and ending their CFP Title dreams. The Alabama vs. Georgia lines that debuted following the Orange and Cotton Bowl boggled many college football bettors, and even fans of the Bulldogs seem confused.
Either way, the action coming in at 18+ college football sportsbooks has evened out over the past week, and is largely dictating the current point spread differential that favors the Bulldogs to win the NCAAF National Championship by just over 2 points.
Alabama Crimson Tide Defense
The only defense being talked about for tonight's CFP Title matchup is Georgia's, and that is because their talented front line struggled to reach Bryce Young during their last game.
What's being ignored entirely is that Alabama has allowed a total of 30 points to Georgia and Cincinnati over their past two contests, and by the way, that's the number 3 and 4 ranked teams in the country.
Alabama held Georgia to 24 points, their lowest total of the year, and followed that up by only letting up two field goals to Cincinnati in the Cotton Bowl.
It would seem that 'Bama's defense is tightening up at just the right time, and gamblers should keep this in mind before laying some action at CFP National Championship betting sites.
Alabama's Rushing Attack
Another component of Alabama's dominance is their potent offense that seems to excel in all aspects. When passing lanes weren't open against the Bearcats, the Crimson Tide turned to running back Brian Robinson to carry the load.
Check out Robinson's stats from the Cotton Bowl.
Brian Robinson Jr. Stats vs. Cincinnati In Cotton Bowl
26 Carries
204 Yards
7.8 Yards-Per-Carry
As you can see, Robinson is averaging nearly a first down every time he is handed the ball, creating second and short situations that are easy wins for a potent offense like Alabama's.
Guess what happens when opposing defenses stack the box and try and stop the run against Alabama? They start chucking it downfield and gobbling up yards en masse. Pick your poison.
Good luck to everyone placing a wager on tonight's Georgia vs. Alabama game. We're siding with the Crimson Tide at online CFP betting sites, and expect a similar result as their prior meeting on December 4th.
ESPN, Bovada