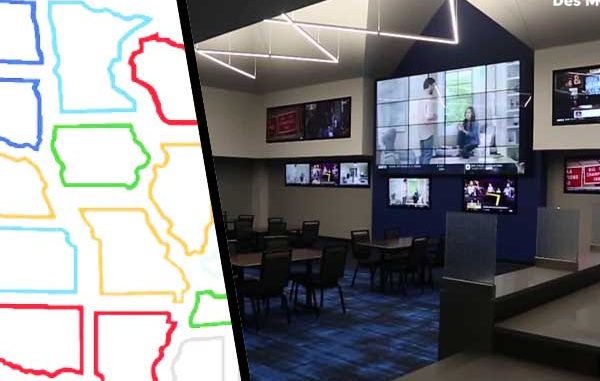 The Hawkeye state can now make claim as being the 11th state to offer legal sports betting and the state did so with a splash, as its launch yesterday was the largest in US history.
Business is open in Iowa, and the grand opening was a special one for many in the state.
Tim Dwight, a legendary former Hawkeye and retired 10-year veteran of the NFL, made history as he was the first Iowan to make a legal wager on a sporting event. He picked Iowa's neighbor to the East, the Chicago Bears from Illinois, to secure the Lombardi trophy.
He wagered 100 bucks–and he did so at Amerisports Bar and Grill, a place that had recently spent $750,000 in renovations to prepare itself for the fun ahead.
As of yesterday, eight sportsbooks are now accepting wagers—and the roughly eleven other casinos who weren't a part of yesterday's grand opening have made a pledge to open before the beginning of the regular season of the NFL.
But the state's legislature did put some restrictions on its new industry and there are some key facts to know.
One of the key parts of the legislation enacted back in May is that in-game prop betting is prohibited on games that involve Iowa college teams.
This is important because in-game prop betting has become a popular way to wager money on sporting events. Even the legendary Jeopardy champion James Holzauer, a professional sports better by trade, has said he has shifted mostly to in-game betting.
But the in-game prop betting prohibition doesn't apply to any other sporting events.
Unique about the legislation is that aside from the aforementioned in-game prop betting prohibition, Iowa will allow wagers to be made on games that involve in-state teams, something that is not seen in many other states' laws.
Age 21 and up is another part of the new Iowa gambling legislation and you have to be within the state lines to place a bet. This law also applies to mobile betting—you can't cross the lines and bet—and one has to physically show up at a casino with proof of age and identity in order to create an online account.
The entirety of the legislation can be found here.
These are the current casinos now taking wagers:
Ameristar Council Bluffs
Catfish Bend
Lakeside
Isle Waterloo
Isle Bettendorf
Prairie Meadows
Rhythm City
Riverside