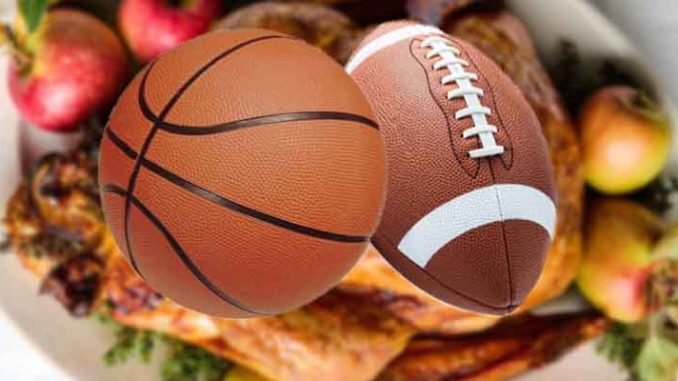 On Thursday, November 23rd, the nation takes a pause to gather together and give thanks around a dinner table with family and friends. The NBA and the NHL will be off on Thursday as both leagues have built in a Thanksgiving break for their players and staff in 2023.
The same cannot be said for the National Football League, NCAA Football, and NCAA Basketball, as there is an entire day of games being broadcast on television screens and taking action at 18-friendly sportsbook sites on Turkey Day.
Thanksgiving Day NFL Schedule
12:30 p.m. Green Bay Packers @ Detroit Lions (FOX)

The Lions Are Favored By -7.5

4:30 p.m. Washington Commanders @ Dallas Cowboys (CBS)

The Cowboys Are Favored By -11.0

8:30 p.m. Miami Dolphins @ New York Jets (NBC)

The 49ers Are Favored By -6.5
The NFL has long been a staple of Thanksgiving, with generations of Americans making memories while the Lions or Cowboys game plays in the background. The same is also true of betting on Thanksgiving Day NFL games, as the tradition is becoming more of a part of the holiday each year.
For 2023, both the Lions and Cowboys are favored to win, with the Dolphins and underdog Jets wrapping up the day in the prime time slot.
Thanksgiving Day College Football Schedule
7:30 p.m. #12 Mississippi Rebels @ Mississippi State Bulldogs (ESPN)

Rebels Are Favored By -11.0
While Thanksgiving is not known for NCAA Football, there is always the traditional Mississippi vs. Mississippi State game that starts off rivalry weekend. College football betting sites for 18 and up have created lines for the Rebels vs. Bulldogs that suggest that Mississippi will win the 2023 Egg Bowl on the road by at least 11 points.
Thanksgiving Day College Basketball Schedule
12:30 a.m. Tulane Green Wave @ California Golden Bears
Noon Penn State Nittany Lions @ #12 Texas A&M Aggies (ESPN)
2:30 p.m. #19 Florida Atlantic Owls @ Butler Bulldogs (ESPN2)
3 p.m. Oklahoma Sooners @ Iowa Hawkeyes (FS1)
4 p.m. #3 Arizona Wildcats @ #21 Michigan State Spartans (FOX)
5 p.m. Seton Hall Pirates @ #23 USC Trojans (FSI)
5:30 p.m. Iowa State Cyclones @ VCU Rams (ESPN2)
8 p.m. Boise State Broncos @ Virginia Tech Hokies
10 p.m. NC State Wolfpack @ Vanderbilt Commodores (ESPN2)
11:59 p.m. BYU Cougars @ Arizona State Sun Devils (ESPN2)
College basketball on Thanksgiving can be seen for nearly the entire 24-hour cycle of the day. The same is true for betting on College Basketball at 18. Betting lines for individual games and Thanksgiving basketball tournaments are offered online between now and Thursday, with most of the contests airing on national television.
If you forget to place your bet before you sit down at the dinner table for Thanksgiving turkey, don't sweat it. Just whip out your mobile device and log in to your sportsbook account at any site we recommend here at SB18.
Even if the game has already begun, betting on NFL, NCAAF, and NCAAB odds can be done live as long as the in-game odds are still on the board, you have money deposited in your account, and your device is connected to the Internet.
The staff at SportsBetting18 wishes all of our readers a happy Thanksgiving, and here's to a full day of winning bets!
Bovada 18+ Sportsbook (Bovada Review), ESPN