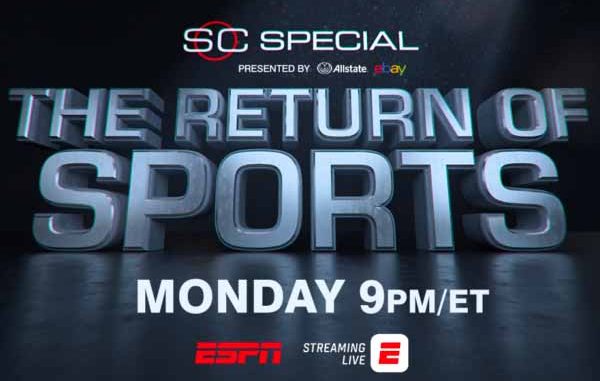 On June 15th at 9 pm (EST), ESPN will air "The Return of Sports," a special program that will feature US sports league commissioners from the NFL, MLB, NBA, WNBA, MLS, and the NHL. The program will outline how US sports will return and the precautions they plan to implement post-coronavirus.
The program will be a two-hour special hosted by Mike Greenberg that will touch on other topics, including economic issues the leagues will face and social justice reform in addition to how players and coaches will return after the pandemic. Several players from multiple US sporting leagues will also take part in the programming. 
Coronavirus brought US sports to a halt in March when the NBA took the first step and suspended its 2020 season. Other leagues soon followed suit, and by the end of March, sports betting disappeared with the numerous suspensions and cancellations. 
Legal sports betting has been spreading across the United States like wildfires since the Supreme Court ruled the Professional and Amateur Sports Protection Act (PASPA) unconstitutional in 2018. Once US gambling laws were changed, states other than Nevada, Montana, and Oregon were allowed to offer state-regulated sports betting. Now there are more than 20+ states that provide some form of domestic sports betting. 
Only a few states with domestic sportsbooks will accept players over the age of 18; most states will only allow sports bets from players over the age of 21. 18+ sports betting sites are generally found online from sites that operate offshore. Online sports betting sites typically fight for bettors by offering lucrative bonus offers, favorable betting lines, and by providing a mobile platform.
With sports set to resume, online and domestic sports betting options are sure to ramp up, including game lines, props, and more futures. Seasoned sports bettors have already figured out what works for them and where they can find the best sports betting lines, but newbies should compare online and domestic sports betting lines before placing a bet. 
Bettors and fans alike who are worried about the second wave of coronavirus cases should tune into the ESPN broadcast "the Return of Sports" to see how US sporting leagues are prepared to combat the coronavirus and what changes to expect. The show is guaranteed to turn high ratings and to inform us sports fans and bettors on when and how to expect live sports again. 
ESPN will host a conversation with commissioners from the top U.S. sports leagues regarding resuming competition amid the coronavirus pandemic.

SportsCenter Special: The Return of Sports will air at 9 PM ET on ESPN on Monday. https://t.co/SL5gkpp4LT

— SportsCenter (@SportsCenter) June 13, 2020