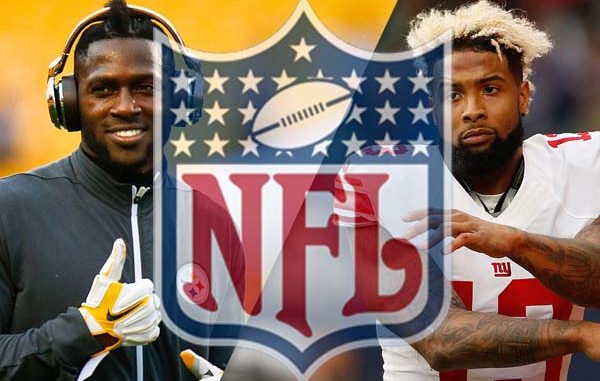 At exactly 4:00 p.m. ET today, the 2019 NFL Free Agency period will be officially underway.
And because NFL rules allowed players to begin contract negotiations with teams on Monday, several of the league's best players have already made their intentions known by either signing new lucrative multi-million, multi-year contract as an unrestricted free agent or by being traded to a new team, so the current team could get picks or players in return.
The vast majority of players below will have new homes before the 2019 NFL season kicks off.
Star players such as Antonio Brown and Odell Beckham Jr. have officially been traded, and everyone should be thankful that we don't have to go another season wondering whether Le'Veon Bell will play or not.
With many teams looking to make a 2019 Super Bowl appearance, here are the biggest trades so far this offseason and a list of the top signings from the free agent period.
Biggest Trades During the 2019 NFL Offseason
Antonio Brown (WR) – Steelers trade Brown to the Raiders for a 3rd round pick (2019) and 5th round pick (2019)
Case Keenum (QB) – Broncos trade Keenum and a 7th round pick (2020) to the Redskins for a 6th round pick (2020)
Dee Ford (DE) – Chiefs trade Ford to the 49ers for a 2nd round pick (2020)
DeSean Jackson (WR) – Buccaneers trade Jackson to the Eagles for a 6th round pick (2019) and a 7th round pick (2020)
Joe Flacco (QB) – Ravens trade Flacco to the Broncos for a 4th round pick (2019)
Kelechi Osemele (OG) – Raiders trade Osemele and a 6th round pick (2019) to the Jets for a 5th round pick (2019)
Marcus Gilbert (OT) – Steelers trade Gilbert to the Cardinals for a 6th round pick (2019)
Michael Bennett (DE) – Eagles trade Bennett and a 7th round pick (2020) to the Patriots for a 5th round pick (2020)
Odell Beckham Jr. (WR) – Giants trade OBJ to the Browns for a 1st round pick (2019), 3rd round pick (2019), and Jabrill Peppers (S)
Olivier Vernon (LB) – Giants trade Vernon to the Browns for Kevin Zeitler (RG)
2019 Free Agent Signings – March 13
Adam Humphries (WR) – 4 years, $36M: Buccaneers to Titans
Adrian Amos (SS) – 4 years $37M: Bears to Packers
Adrian Phillips (S) – Unrestricted (Chargers)
Anthony Barr (LB) – 5 years, $67.5M: Staying w/ Vikings
Brent Urban (DE) – Unrestricted (Ravens)
Bruce Irvin (LB) – Unrestricted (Falcons)
Bryce Callahan (CB) – Unrestricted (Bears)
Cameron Wake (LB) – 3 years, $23M: Dolphins to Titans
C.J. Mosley (LB) – 5 years, $85M: Ravens to Jets
Cole Beasley (WR) – 4 years, $29M: Cowboys to Bills
Dante Fowler (LB) – 1 year, $14M: Staying w/ Rams
Darqueze Dennard (CB) – Unrestricted (Bengals)
Daryl Williams (OT) – Unrestricted (Panthers)
Denzel Perryman (LB) – Unrestricted (Chargers)
Earl Thomas (FS) – Unrestricted (Seahawks)
Golden Tate (WR) – Unrestricted (Eagles)
Ha Ha Clinton-Dix (SS) – Unrestricted (Redskins)
Henry Anderson (DE) – 3 years, $25.2M: Staying w/ Jets
Ja'Wuan James (OT) – 4 years, $51M: Dolphins to Broncos
Jamison Crowder (WR) – 3 years, $28.5M: Redskins to Jets
Jason McCourty (CB) – Unrestricted (Patriots)
Jimmie Ward (CB) – Unrestricted (49ers)
John Brown (WR) – 3 years, $27M: Ravens to Bills
Jordan Hicks (LB) – 4 years, $36M: Eagles to Cardinals
Justin Coleman (CB) – 4 years, $36M: Seahawks to Lions
Kareem Jackson (SS) – 3 years, $33M: Texans to Broncos
K.J. Wright (LB) – Unrestricted (Seahawks)
Lamarcus Joyner (FS) – 4 years, $42M: Rams to Raiders
Landon Collins (SS) – 6 years, $84M: Giants to Redskins
Le'Veon Bell (RB) – 4 years, $52.5M: Steelers to Jets
Mark Ingram (RB) – Unrestricted (Saints)
Markus Golden (DE) – Unrestricted (Cardinals)
Matt Paradis – 3 years, $27M: Broncos to Panthers
Mitch Morse (C) – 4 years, $44.5M: Chiefs to Bills
Muhammad Wilkerson (DE) – Unrestricted (Packers)
Ndamukong Suh (NT) – Unrestricted (Rams)
Nick Foles (QB) – 4 years, $88M: Eagles to Jaguars
Pierre Desir (CB) – Unrestricted (Colts)
Preston Smith (LB) – 4 years, $52M: Redskins to Packers
Rodger Saffold (G) – 4 years, $44M: Rams to Titans
Rodney Gunter (DT) – Unrestricted (Cardinals)
Ronald Darby (CB) – Unrestricted (Eagles)
Shaquil Barrett (LB) – Unrestricted (Broncos)
Sheldon Richardson (DT) – 3 years, $39M: Vikings to Browns
Teddy Bridgewater (QB) – Unrestricted (Saints)
Tevin Coleman (RB) – Unrestricted (Falcons)
Trent Brown (OT) – 4 years, $66M: Patriots to Raiders
Trey Flowers (DE) – 5 years, $90M: Patriots to Lions
Tyrann Mathieu (FS) – 3 years, $42M: Texans to Chiefs
Tyrell Williams (WR) – Unrestricted (Chargers)
Za'Darius Smith (LB) – 4 years, $66M: Ravens to Packers