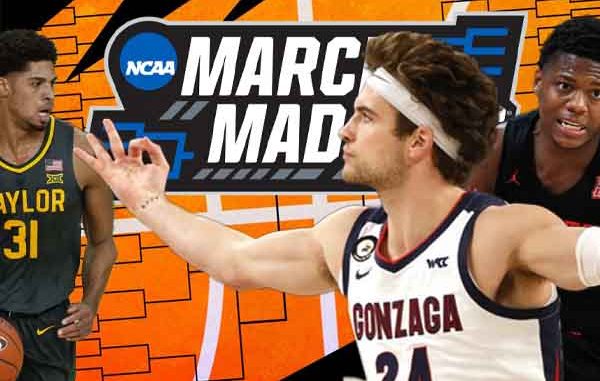 March Madness 2021 is well underway, and odds are starting to shift due to team and individual performances. 
While something hasn't changed much, like Gonzaga leading the odds boards, other teams like Illinois have already been taken out of the tournament. So far, this year's tournament has lived up to the expectations and produced several upsets and nail bitters.
These upsets have already ruined many bettor's basketball seasons as much of the action is usually placed on bracket betting. However, if you were betting on futures or game lines, you would still be in the tournament. 
There are multiple ways to bet on the NCAAB March Madness tournament offered online and with domestic sportsbooks. Whether you are a perfect bracket guy or a game line and futures guy, there is something for everyone since the sports betting the SCOTUS has repealed the ban. 
Your options are limited for bettors under the age of 21 as only a few sports betting states accept players as young as 18. However, online there are multiple options for players under the age of 21 and over the age of 18.
The Current future odds for winning the 2021 March Madness tournament from Bovada are listed below.
Odds To Win 2021 NCAA DI Men's Basketball Tournament
Gonzaga (#1) +180


Baylor (#1) +350

Houston (#2) +800

Michigan (#1) +1000

Alabama (#2) +1600

Arkansas (#3) +1800

Iowa (#2) +1800

Loyola Chicago (#8) +1800

Villanova (#5) +2400

Florida State (#4) +3000

Oregon State (#12) +3000

Syracuse (#11) +3000

Kansas (#3) +3500

USC (#6) +5000

Colorado (#5) +5500

UCLA (#11) +6600

Creighton (#5) +7000

Oral Roberts (#15) +7000

LSU (#8) +8000

Oregon (#7) +8000

Maryland (#10) +10000

Oklahoma (#8) +15000

Ohio (#13) +20000

Abilene Christian (#14) +25000
Round 2 of the NCAAB tournament is sure to produce some more surprising finishes as teams work to earn a spot in the upcoming sweet 16.