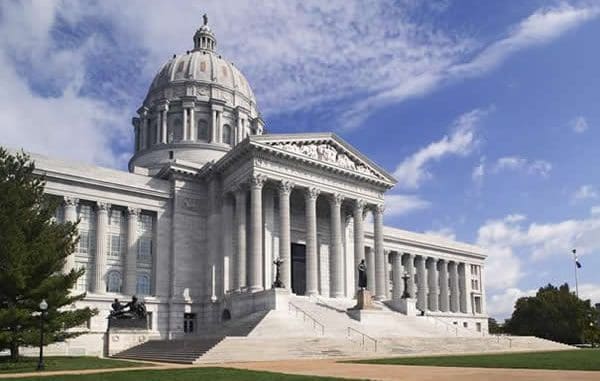 Missouri introduced several variations of legal sports gambling bills in 2018 but none were passed into law before the year's end.
However, the State of Missouri is reintroducing some of those legal sports betting bills into the 2019 legislative session. Currently, pre-filed sports gambling legislation in the state currently has provisions to charge local state-licensed sportsbooks a royalty fee.
Rep. Cody Smith (R) was the second legislator to pre-file a bill with a royalty fee, of which he includes a 1% royalty fee for wagers handled – a specific amount major sports leagues have lobbied for since the removal of one federal ban – PASPA.
The fee structure for Rep. Smith's bill HB 119 would divide the 1% fee into 2 parts, with 75% paid to registered pro leagues and the remaining 25% paid to the NCAA. This is the first bill introduced in the US which defines a royalty payment in any amount to be paid to the NCAA.
However, it is unclear what the state receives in exchange for this royalty, nonetheless, the state would tax sportsbooks 6.25% on adjusted gross revenue with tax funds going into the "Gaming Proceeds for Education Fund" under this bill.
Another pre-filed bill for the 2019 legislative session to consider includes SB 1013, a much more attractive bill introduced by Sen. Denny Hoskins (R). Sen. Hoskins bill would only require sportsbooks to pay a .5% of their handle to an "Entertainment Facilities Infrastructure Fund" for the state where the funds will be used to build, maintain, and improve sports and/or cultural facilities.
However, states with passed sports gambling bills and launched sportsbooks do not pay any league, professional or amateur, any kind of fee.
Either bill provides provisions for limited interactive gaming where bettors must be on-site to wager online or on mobile. Current issues facing Missouri's potential new sports gambling bill is whether sports leagues and domestic casinos can share the profits and meet a consensus.
Missouri House Speaker Elijah Haahr agreed with these sentiments when he said he's "fairly pessimistic on a sports wagering bill advancing until casinos and sports leagues reach an agreement".
Either way, some movement on a sports gambling bill will occur in the state as several lawmakers from both chambers support the state's legalization and taxation of sports gambling. Additionally, provisions to allow video gambling at bars, restaurants, and truck stops are also being considered within the bills.
Sen. Hoskins bills are estimated to provide $18 million in tax revenue from sports legalization. One of his pre-filed bills includes the sole authorization of sports betting on MO river gaming boats with an allied proposal to repeal prohibitions on riverboat wagering.
However, Hoskins isn't the only one with the riverboat wagering idea as Rep. Smith filed a measure for riverboat wagering, and Sen. Bill Eigel (R) authored a bill to designate certain areas of a riverboat to wagering, as well as hotels, and restaurants.