California is preparing to have a Midterm Election season unlike any other. Competing gambling interests will brawl it out for the prestige of becoming the state's first 18+ mobile sports betting operator.
That is, of course, if the good people of the Golden State should welcome them.
Gambling Proposals In CA
Voters may see up to five different gambling proposals at the ballot box in November. With a wide variety of measures and incentives, it could get overwhelming.
To combat the confusion, some of these campaign groups are taking a proactive start on both polling and educating the populace on the distinctions between each of the prospective US sports betting laws.
The Coalition For Safe, Responsible Gaming conducted a recent survey to gauge public interest and support for Initiative #21-0017A1. This proposal, known as the Corporate Online Sports Wagering Initiative, has yet to meet the signature count needed to qualify for the ballot.
However, it comes in direct response to an in-person tribal sportsbook measure that qualified last year.
The survey, whose work concluded earlier this month, studied the change in perspective of 1,094 California voters between November 2021 and April 2022.
When the pool of participants was first asked whether they would vote "Yes" or "No" on the 18+ mobile sports betting proposal, the majority surprisingly leaned against it.
Poll Results Prove Unfavorable
The investigation found that, in November, 48% of respondents said "No" and 42% of respondents said "Yes," leaving only 10% undecided and/or refused.
Six months later, participants returned for a check-in to see if and how their views had shifted. The same respondents did a cold read of the initiative's official Title and Summary before confirming their choices.
The results came back with an even greater majority against the Corporate Online Sports Wagering Initiative. 53% of the pool claimed "No," 36% claimed "Yes," with 10% still undecided.
But the survey didn't end there.
Poll workers also examined whether pro and con statements affected voters' propensity to lean in either direction. The content was assembled using five "Yes" statements and five "No" statements.
The "Yes" statements were pulled directly from campaign materials distributed by the corporate initiative's proponents. "Yes," statements included subjects like the push for diversity in California's gaming industry and funding aid to prevent homelessness.
"No" statements were pulled from arguments made by the state's tribes against corporate gaming. These included the threat to tribal sovereignty and risks that follow the implementation of online gambling, such as underage play.
Drastic Change In Perspective
After reviewing the information, the pool was surveyed again. This time, 64% of the voters were against the measure, 25% still favored the measure, and 11% were undecided.
From November to April, the Corporate Online Sports Wagering Initiative lost almost a quarter of its support among survey participants.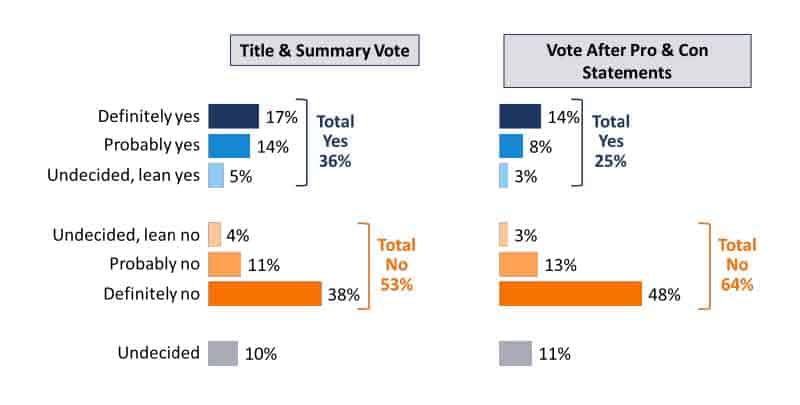 California won't be just any legal sports betting state. Whoever controls the market will oversee one of the nation's most lucrative gambling jurisdictions. There is a lot of power and responsibility that comes with such a role.
Offshore sportsbooks are always a viable option for legal 18+ sports betting. Fans shouldn't feel pushed into a corner with this measure.
With so much at stake, voters should thoroughly review all of the proposals and make sure that sportsbook privileges are awarded responsibly, if at all.
Source: Stand With CA Tribes