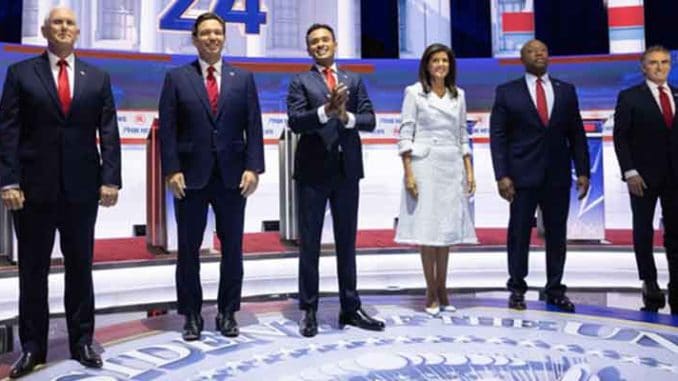 The second Republican Presidential Candidate debate goes down tonight at Simi Valley's Ronald Reagan Presidential Library, but the top GOP contender will not be on stage to state his case.
Instead, Donald Trump will make a speech in Detroit, Michigan, where an auto workers' strike is in progress. While he is busy attempting to secure the votes of auto workers' union members, seven GOP potentials will take to the stage to debate on the Fox Business Network tonight at 9:00 p.m.
Election betting sites have created GOP debate odds that give an idea of how the event will proceed. Two of the top online sports betting sites for 18 and over gamblers have created similar sets of odds that allow players to shop for the most potential cash winnings. Here's an example.
Second GOP Debate Winner (Bovada)

Vivek Ramaswamy +160
Ron DeSantis +180
Nikki Haley +200
Mike Pence +1200
Tim Scott +1500
Chris Christie +2000

CA Republican Debate Winner (BetUS)

Vivek Ramaswamy +150
Ron DeSantis +200
Nikki Haley +200
Tim Scott +1200
Mike Pence +1400
Chris Christie +2500
In both political prop bets, Vivek Ramaswamy is predicted to be the winner, which will be determined by a post-debate poll conducted by ABC News. However, if you intend to bet on Ramaswamy to win the second debate, one sportsbook will pay out more than the other.
Ramaswamy's odds are set at +160 at Bovada, which will deliver $1.60 in profit on the dollar. This is $0.10 on the dollar more than what's being offered at BetUS.
Florida Governor Ron DeSantis is garnering a +180 moneyline at Bovada, but in this case, BetUS is offering a bigger payout if he ends up winning. If you don't check the odds at each of our top entertainment sportsbooks, you could be limiting your earning potential.
Most Speaking Time (Bovada)

Vivek Ramaswamy +250
Mike Pence +300
Ron DeSantis +300
Chris Christie +350
Nikki Haley +350
Tim Scott +1500

CA GOP Debate: Most Speaking Time (BetUS)

Vivek Ramaswamy +150
Mike Pence +200
Ron DeSantis +200
Nikki Haley +900
Chris Christie +1800
Tim Scott +2000
Vivek is also leading the odds to speak for the most time this evening. He is long-winded and interjects often, making him a likely winner in both sets of prop bets. Once again, the odds differ for all GOP debaters and demand that gamblers shop the lines at 18+ sportsbooks to earn the best payout possible.
The debate is set to begin at 9:00 p.m., but there is a chance that these odds remain on the boards even after the candidates start answering questions. It may be wise to place your wagers before it starts because there is no guarantee that these props will remain live throughout the debate.
Bovada (Bovada Sportsbook Review), BetUS (BetUS Sportsbook Review), Detroit Free Press, CNN