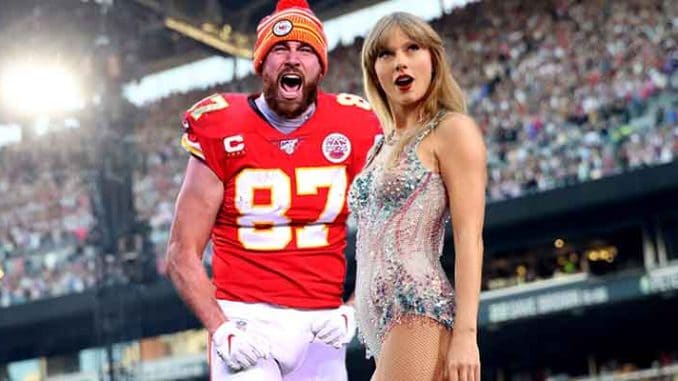 Pop culture icon Taylor Swift has a new boyfriend, and online sportsbooks have taken notice. So have NFL fans, as Swift has been spotted in the skybox at the last two Kansas City Chiefs games against the Chicago Bears and New York Jets.
Swift has suddenly taken a keen interest in the Chiefs because she is dating Travis Kelce, one of the team's star players.
If you are a fan of NFL betting, then you already know who Travis Kelce is. He is currently putting together what could be the greatest career a tight end has ever had in the NFL and is sporting two Super Bowl rings that he captured over the past four seasons.
Sightings of the two together have been scarce, but there are betting odds on the board taking action on when their first public kiss will be recorded.
First Lip To Lip Public Kiss
After 2023 -140
Before 2023 EVEN
The only confirmation of Kelce and Swift's romantic relationship has been offered on the New Heights Podcast, which is hosted by Travis and his brother Jason Kelce who plays for the Philadelphia Eagles.
Will Taylor Appear On New Heights Podcast By NFL Week 1 2024?
The above odds suggest that Taylor will not make an appearance on the podcast prior to September of 2024, but there are 2-to-1 payouts being offered if she does indeed show up as a guest.
Will Swift And Kelce Still Be A Couple During Week 1 Of The 2024 NFL Season?
Even the most perfect celebrity couples have suffered breakups, so there's no guarantee that this Swift-Kelce relationship will last. Entertainment betting sites are suggesting that they will be broken up by September of next year, but they do believe there is a solid chance that the couple will remain an item until at least Valentine's Day.
Will Kelce And Swift Be A Couple On February 14th, 2024
If entertainment prop bets pan out, and the two remain together through mid-February of 2024, then the press will certainly hound their activities, hoping to get a shot of them in action.
This Taylor Swift prop bet has produced a series of potential destinations where she and Travis will celebrate the holiday, and the leading location is Paris, France. Ooh la la.
Where Will Taylor And Travis Spend Valentine's Day 2024?
Paris, France +800
Aspen, Colorado +1000
Kyoto, Japan +1000
Rome, Italy +1000
Sydney Australia +1000
Tokyo, Japan +1000
Jervis Bay, Australia +1500
Las Vegas, Nevada +1500
Maui, Hawaii +1500
The sites included in our online 18+ sportsbook reviews have also created lines on whether the couple takes it to the next level. Will Travis Kelce propose to Taylor Swift before the end of 2023?
The odds do not favor that outcome, but if Travis puts a ring on it in 2023, you can win 8-to-1 payouts by betting on it.
Will Taylor Swift & Travis Kelce Announce They Are Engaged In 2023?
There is an even lower likelihood that Kelce and Swift will announce that they are expecting a baby before December 31st of this year. When the chances are low, the payout potential is often high, and that's the case in this pregnancy prop bet.
Will Taylor Swift & Travis Kelce Announce A Pregnancy This Year?
While these betting lines seem like fun and games, there is very real money at stake that can be won if you place a wager now. We advise moving fast because these Taylor Swift odds will not remain on the boards forever. "Don't Blame Me" if you are late to the party and miss out on the fun.
Bovada Sportsbook (Bovada 18+ Betting Site Review), BetOnline Sportsbook (BetOnline Review), ESPN