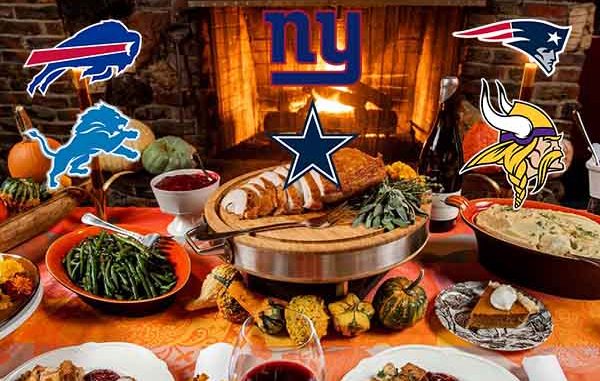 Tomorrow is Thanksgiving Day, which means most Americans will be gathering with family and loved ones around the dinner table with the sounds of NFL games echoing throughout the house.
While most domestic sportsbooks in the USA require a minimum age of 21 or over to bet on Thanksgiving Day NFL games, there are a handful of states and territories that allow for 18 and over gamblers to join in on the fun.
US States With Domestic Sports Betting For 18 And Older Gamblers
Montana
New Hampshire
New Mexico
Rhode Island
Tennessee
Washington, D.C.
Wyoming
If you don't live in any of the above states, all hope is not lost for NFL betting at 18 years old, as there are plenty of offshore sportsbooks that can handle your pro football Thanksgiving Day wager.
In every state and territory in the United States, 18+ gamblers can access offshore betting sites, signup as a member, and legally wager on NFL odds using up-to-date PCs, laptops, smartphones, and tablets.
We invite readers to check out our 18 and over online sportsbook reviews to learn more about these international gaming venues and find out why we rate them as the best on the web.
There are no state or federal laws that prohibit or even attempt to govern overseas sportsbook sites, except for the state of Washington, which has an active ban on all online gaming, be it sports betting or casino games.
Even in WA, online sportsbooks are expected to get the green light from the legislature and the Governor soon, effectively lifting the web-based gaming prohibition for domestic and offshore books simultaneously.
Each NFL sportsbook site that we recommend will feature game lines for all three pro football matchups occurring on the Thanksgiving Holiday. Here are the three NFL game lines for tomorrow that are posted at Bovada.
Buffalo Bills @ Detroit Lions
Spread – Bills -9.5, Lions +9.5
Moneyline Odds – Bills -460, Lions +340
Over/Under – 54.5
12:30 PM on CBS
New York Giants @ Dallas Cowboys
Spread – Giants +10.0, Cowboys -10.0
Moneyline Odds – Giants +375, Cowboys -525
Over/Under – 45.5
4:30 PM on FOX
New England Patriots @ Minnesota Vikings
Spread – Patriots +2.5, Vikings -2.5
Moneyline Odds: Patriots +120, Vikings -140
Over/Under: 42.0
8:20 PM on NBC
Bettors can place wagers on the above three game lines up until the kickoff of each Thanksgiving NFL matchup.
There are also live betting lines for in-play wagering that will allow action from the first through fourth quarters of each of these contests. Just look for the live betting section at each sportsbook that we recommend to eighteen-year-old gamblers.
$20,000 Thanksgiving NFL Parlay Contest At BetOnline
One of our top sports betting sites, BetOnline, is featuring a Thanksgiving Day NFL Parlay Contest that will award winners a share of a $20,000 grand prize.
Active members that have placed $25 in wagers on tomorrow's NFL games qualify for free entry into the contest. All that contestants need to do is make six correct picks against the spread and the over/under to become a winner.
Here are the six NFL betting picks that need to be made correctly:
Buffalo Bills-9½
Detroit Lions+9½
Buffalo Bills Over 54
Detroit Lions Under 54
New York Giants +8½
Dallas Cowboys -8½
New York Giants Over 44.5
Dallas Cowboys Under 44.5
New England Patriots +3
Minnesota Vikings -3
New England Patriots Over 42.5
Minnesota Vikings Under 42.5
Good luck to everyone betting on NFL games tomorrow, and here's hoping that all of our readers have a wonderful Thanksgiving holiday in 2022.
Source – CNN