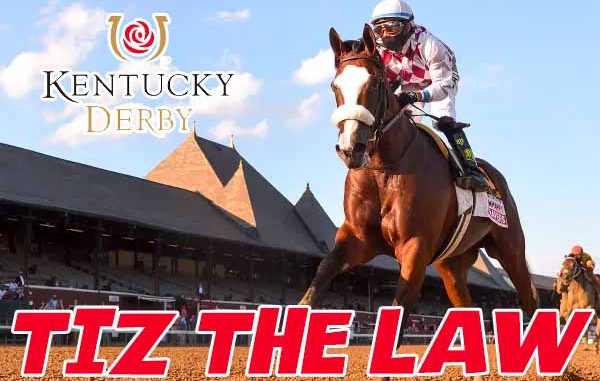 After nearly a four-month delay due to Covid-19, the 146th Kentucky Derby is set to run this Saturday, September 5th, 2020. For horse betting aficionados, the Triple Crown is the Super Bowl of horse racing, and the first hurdle on the road to becoming a Triple Crown winner is the Kentucky Derby. 
To win the Triple Crown, a three-year-old thoroughbred horse must win the Kentucky Derby, Preakness Stakes, and the Belmont Stakes. Each race that makes up the Triple Crown is scheduled within a few weeks of each other; however, this year, the Belmont was shortened and ran before the Derby. 
Since 1875 only twelve horses have been awarded the Triple Crown, the most recent recipient, "Justify," was awarded the title in 2018. This year, "Tiz the Law" is favored to win the Kentucky Derby due to his recent win at the Belmont. "Tiz the Law" is also the only horse on the track that still can win the Triple Crown this year. Below you will see that the Belmont was a close race with "Tiz the Law" shooting from 3rd to 1st after the last turn to win the Belmont.
Betting on the Sport of Kings will be different this year due to our society's extreme differences from just a few years ago. Sports betting states now allow bettors to place their bets on the Derby and the Crown at brick-and-mortar sportsbooks and the numerous online options available to American bettors. Kentucky recently tried to pass HB 137, a sports betting bill, but the Republican caucus struck down the motion. 
Despite Kentucky not offering local sports betting options, the Kentucky Derby, aka "The Greatest Two Minutes in Sports," will be one of the most wagered on events in 2020. US gambling laws do not forbid online bets from being placed offshore with 18+ online sports betting sites. Only two states (Washington and Connecticut) have outlawed any form of online gambling; however, those restrictions are not typically enforced. 
This year the Kentucky Derby might look a little different with big hats, social distancing, and facemasks, but the tradition will forever be the same. It goes to show that it will take more than a global pandemic to stop these horses from running.
Below you will find odds for the Kentucky Derby and the Triple Crown. These odds were taken from Bovada's Sportsbook. More props and futures will become available as the big weekend draws near. 
🏇🏻 Kentucky Derby and Triple Crown Odds:
Will There Be A US Triple Crown Winner In 2020?
Kentucky Derby Winner
Tiz The Law

-165

Honor A P

+750

Authentic

+1200

Max Player

+2000

Ny Traffic

+2000
Kentucky Derby Winner – Tiz The Law v The Field
Tiz The Law

-150

The Field

+120