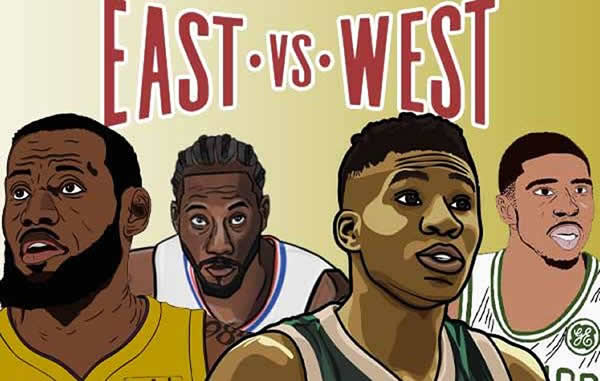 Now That the NFL Season is over NBA Basketball betting is in full swing as the east, and the west starts to take shape. 
The NBA Season is roughly 50-55 games in their 82-game season. Teams are starting to separate from the pack as some prepare for the postseason, and others look towards the offseason and regrouping. 
The biggest story on the court so far this year is the passing of Kobe Bryant, his daughter Gigi and the seven other passengers aboard the helicopter that tragically crashed to the ground in Calabasas, Ca. Since that tragic day, basketball fans around the world have shown their appreciation for Kobe's great gift. Many fans have even signed a petition to change the NBA logo to feature Kobe's silhouette. 
Western Conference Odds
On the court, the battle for LA has been the topic of most Western conference fans. During the offseason, both the LA Lakers and the LA Clippers loaded up to make a 2020 post-season run. The Lakers added big man Anthony Davis to help guide Lebron and the Lakers to the Championship while the Clippers added Kawhi Leonard and Paul George to boost their odds. 
So far this season, the Clippers have faced the Lakers 4 times on the court and walked away with a victory in 3 of the four matchups. However, the games were close and could have gone either way. Currently, the Lakers lead the West, followed by the Nuggets and then the Clippers. Below you will see the current odds for the top 5 teams to win the NBA Western Conference. 
2020 Western Conference – Odds To Win
Los Angeles Lakers +155

Los Angeles Clippers +180

Houston Rockets +700

Denver Nuggets +1000

Utah Jazz +1000
Eastern Conference Odds
The NBA Eastern conference is currently lead by the Milwaukee Bucks with the best record in the NBA at 46-7. Last year's Championship team, the Toronto Raptors (- Kawhi) are currently second in the east with a record of 40-14, they are followed closely by the Celtics and the Miami Heat. 
For the most part, the Bucks are a complete team made up of outstanding players who have yet to become NBA superstars. The Antetokounmpo brothers lead the charge for the Bucks at the power forward (Giannis) and shooting forward (Thanasis) positions. 
The Bucks have pretty much locked down the east, but with 30 games left, anything could happen. Below you will see the current odds for the top five teams to win the NBA Eastern Conference. 
2020 Eastern Conference – Odds To Win
Milwaukee Bucks -185

Philadelphia 76ers +700

Boston Celtics +800

Miami Heat +700

Toronto Raptors +750