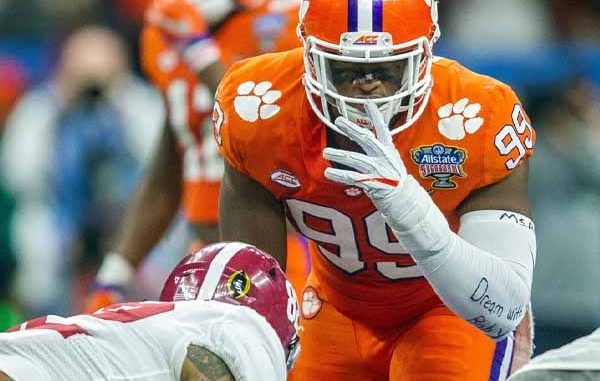 To avid football bettors, it should come as no surprise that Alabama (+225) and Clemson (+190) are still sitting on top of the odds charts while other teams around them are slipping into irrelevance. 
With week 4 of the NCAA Football season coming up things are starting to take shape for many of the elite college football programs, while other programs are still looking for their first or second win. 
This week some key matchups could shape the college football playoffs. Let's take a look at the most significant games with playoff implications.
---
Georgia (3) vs. Notre Dame (7)
Last time Georgia matched up against Notre Dame the Bulldogs walked away with a 20-19 victory in what ended up being one of the toughest matchups of the year for the two teams. This year Notre Dame will have to pull off the win if they want to make a playoff bid. Other than Georgia, the only current top-ranked teams on their schedule are Virginia (21), and Michigan (11).  
Georgia has been riding the hot hand of Junior Quarterback Jake Fromm for over the past two years but has always seemed to come up short against Alabama in the SEC Championship. Georgia has a hard schedule and has to face top-ranked teams Notre Dame (7), Florida (9), Auburn (8), and Texas A&M (17). 
Odds: 
Spread: Georgia -14 (-115), Notre Dame +14 (-105)
Moneyline: Georgia -600
Over/Under: U56.0 (-110), O56.0 (-110)
Our Pick: Georgia
---
Michigan (11) vs. Wisconsin (13)
Michigan and Wisconsin are both 2-0 so far, but that will change after Saturday. Wisconsin is favored by 3.5 points according to online sportsbooks, but Michigan has never gone down easy. The Wolverines have struggled over the past few seasons, and it wouldn't be a surprise to see them lose a couple of games this year with powerhouses Ohio (6), Notre Dame (7), Iowa (18), Penn State (13) all on the schedule. 
Wisconsin has a more manageable schedule only consisting of top-ranked teams Ohio State (6) and Iowa (18) but this weekend's game against Michigan (11) will decide the team's chances of getting a playoff bid. Quarterback Jack Coan will have to play up to his potential to lead the Badgers to victory over the Wolverines. 
Odds:
Spread: Wisconsin -3.5 (-110), Michigan +3.5 (-110)
Moneyline: Wisconsin -170, Michigan +150
Over/Under: U43.5 (-110), O43.5 (-110)
Our Pick:
---
Auburn (8) vs. Texas A&M (17)
Texas A&M is favored over Auburn even though the Aggies have already lost a game and are about ten spots behind the Tigers in the rankings. To be fair, the game is in College Station, and the Aggies only loss was a good game against #1 ranked Clemson where they lost by two touchdowns. 
Auburn was able to squeak by Oregon in their season opener, but they have the hardest schedule of any of the teams listed above. To make the playoffs Auburn will have to beat Texas A&M (17), Florida (9), LSU (4), Georgia (3), and Alabama (2) or at least a combination of those teams and win the SEC to be considered for a spot.  
Odds:
Spread: Texas A&M -4 (-110), Auburn +4 (-110)
Moneyline: Texas A&M -190, Auburn +165
Over/Under: U47.5 (-110), O47.5 (-110)
Our Pick:

---
Football betting has gained popularity since the USA Supreme Court decided to ban the Professional and Amateur Sports Protection Act (PASPA) early last year. Now sports betting states can enact domestic laws to allow anyone over the legal gambling age the right to legally bet on sports. 
Not all legal sportsbooks are licensed by states. Online sportsbooks operating offshore are legal barring state laws because there are no federal restrictions. Sports bettors over the age of 18 can legally place their bets with sites that are offered to US citizens. 
While Super Bowl betting still reigns supreme among sports bettors, NCAA football is not too far behind. With online sportsbooks, you can find betting lines on all sorts of matchups from NFL games and NCAAF to international sports such as Cricket or Rugby. 
Future betting odds still favor Alabama and Clemson, but it is a long season, and anything can happen. Both the Tide and the Clemson Tigers play matchups they are expected to dominate this weekend. Clemson is already positioned for the playoffs considering no one else on their schedule is ranked in the top 25. Alabama has a little harder route with matchups against Auburn and Texas A&M.
Odds To Win 2020 National Championship – Week 4 (Bovada)
Clemson (#1) +190
Alabama (#2) +255
Georgia (#3) +900
Ohio State (#6) +900
Oklahoma (#5) +1400
LSU (#4) +1800
Michigan (#11) +2200
Notre Dame (#7) +2500
Colorado +5000
Utah (#10) +5000
Wisconsin (#13) +5000
Auburn (#8) +6600
Florida (#9) +6600
Oregon (#16) +6600
Washington U (#22) +6600
Penn State (#13) +8000
Texas (#12) +8000
Iowa (#18) +10000
Miami Florida +10000
Michigan State +10000
Texas A&M (#17) +10000
Washington State (#19) +10000
Nebraska +12500
Northwestern +12500
Oklahoma State +12500
TCU (#25) +12500
Central Florida (#15) +15000
Florida State +15000
Memphis +15000
Mississippi State +15000
NC State +15000
Stanford +15000
USC +15000
Virginia (#21) +15000
Baylor +20000
Boise State (#20) +20000
Minnesota +20000
Tennessee +20000
Texas Tech +20000
Utah State +20000
Boston College +25000
Iowa State +25000
Kentucky +25000
Louisville +25000
South Carolina +25000
Arizona State (#24) +30000
Northern Illinois +30000
South Florida +30000
UCLA +30000
Virginia Tech +30000
BYU +40000
California (#23) +40000
Syracuse +40000
West Virginia +40000
Arizona +50000
Army +50000
Kansas +50000
Kansas State +50000
North Texas +50000
Purdue +50000
Tulsa +50000
UAB +50000
Fresno State +75000
Houston +75000
New Mexico +75000
New Mexico State +75000
Ohio +75000
Rice +75000
Maryland +100000