Without a doubt, Conor McGregor is one of today's most prominent names in sports, but with his trilogy UFC fight against Dustin Poirier coming up next, oddsmakers are torn but currently favoring McGregor. 
Anyone who is a fan of mixed martial arts or has been betting on the UFC in recent years can tell you about the history behind the McGregor/Poirier trilogy and the weight it carries in the lightweight division, but here we will detail each match up and explain how to bet on the odds for the upcoming bout. 
UFC 178 (9-27-14)
Before McGregor shot to superstardom in the UFC, he fought Dustin Poirier in 2014. After many pre-show antics and name-calling, McGregor rolled over Poirier on his way to his first UFC championship belt. McGregor wouldn't win his first belt until about a year later, in 2015, when he beat Chad Mendes for the interim featherweight title. 
Payouts:
Conor McGregor: $150,000
Dustin Poirier: $34,000
*Source: MMAMania
UFC 257 (1-23-21)
Dustin Poirier would have to wait nearly seven years to get his rematch against McGregor after his first-round loss in 2014, but he made it worth the wait with a second-round knockout. 
Payouts:
Conor McGregor: $3.04m
Dustin Poirier: $830k
*Source: Sportskeeda
UFC 264 (7-10-21)
UFC 264 is scheduled to take place Saturday, June 10th, 2021, at the T-mobile arena in Paradise, Nevada. The main event is Poirier vs. McGregor, however, several other fighters are on the ticket, including Maia vs. Eye and Thompson vs. Burns. There will also be several prelims which are fights that air on TV before the main ticket fight begins its pay-per-view.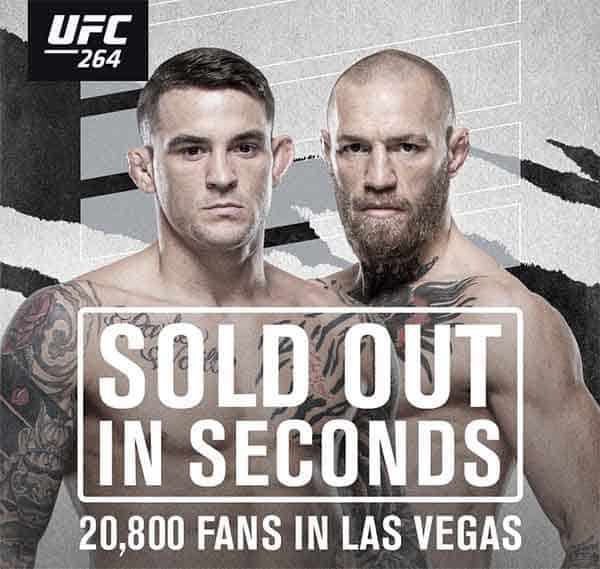 Betting odds on UFC 264 are currently available online, but these odds will likely change as the fight draws near. 
Betting Odds via Bovada's Sportsbook:
McGregor -115

Dustin Poirier -105
Jennifer Maia -200

Jessica Eye +160
Stephen Thompson -145

Gilbert Burns +120
Depending on where you live, you might not have domestic options to bet on sports; luckily, there are several legal options for residents of US states that do not allow domestic sportsbooks. 
Online Sports Gambling
18+ online sportsbooks operate offshore and are legal under current federal gambling laws. Online sportsbooks that cater to US players offer many perks, including bonus options for new players and returning players. You can also bet with cryptocurrencies such as Bitcoin, Litecoin, Ethereum, and more. 
Other perks of online sports betting include mobile options, multiple odds for a vast selection of sports, and sometimes other services such as casino gambling, poker, and more. 
For UFC 264, there are only a handful of odds available now, but in the coming weeks, more props and futures will likely be added. As to who we would bet on, it's hard to say as we could see this bout go either way.