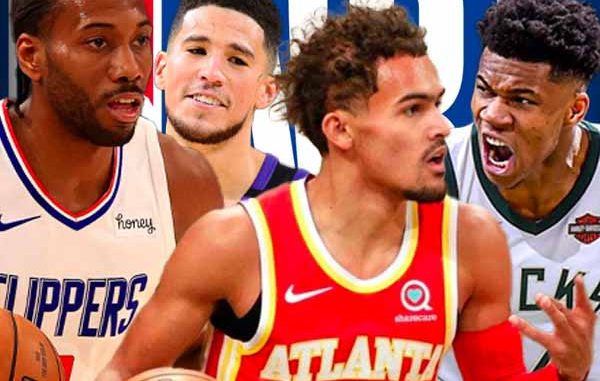 The NBA season has officially moved to the conference finals round with four teams battling it out to advance in the 2021 NBA playoffs.
Last night the Atlanta Hawks knocked off the Philadelphia 76ers to earn the final spot in the conference finals. The Hawks will have to play the Milwaukee Bucks for the eastern title, while the Los Angeles Clippers will have to face the Phoenix Suns for the western title. The four teams will play a best of seven series to advance to the NBA Finals. 
Suns vs. Clippers
The Suns already have a 1-0 lead on the Clippers after taking game one in the Valley. While most of the game was back and forth, the Suns pulled ahead in the final quarter and won the game 120-114. Devin Booker scored 40 for the Suns and was a big part of their success in game one.
Hawks vs. Bucks
The Hawks forced a game seven against the 76ers and came out victorious in the game's final minutes. The Bucks also had to win game seven against the Brooklyn Nets to earn their spot in the Eastern Conference finals. Kevin Durant (Nets) had a shot at winning the game in overtime but came up short in the final few seconds. 
Betting on the NBA Conference Finals
18+ sports betting sites offer several ways to bet on the NBA playoffs and the finals, including futures, game lines, and props. 
When betting on game lines, you can choose to bet on the winner, aka the money line, spread, or totals. 
(Spread, Win, Totals)
L.A. Clippers +6.0 (-110) | +195 | O224.0 (-110)

Phoenix Suns -6.0 (-110) | -235 | U224.0 (-110)
Betting on futures is another way sports bettors wager on basketball competitions. Future odds for the NBA include the NBA finals winner, MVP odds, conference winners, and more. Below are the current future odds for the 2021 NBA Champion from Bovada.
2021 NBA Champion
Milwaukee Bucks +110

Phoenix Suns +150

L.A. Clippers +700

Atlanta Hawks +1200