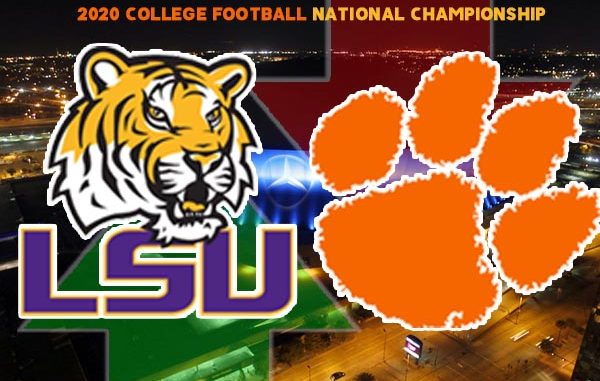 The teams are set, and for the 2020 College Football National Championship, the Clemson Tigers will matchup against Louisiana State University (LSU). Betting odds favor the LSU Tigers (-220), but the Clemson Tigers (+180) are looking to win their second National Championship in a row. 
Louisiana State Tigers
LSU has had an amazing year topping all the teams in the SEC and routing Oklahoma in the College Football Playoffs. The Tigers had six big wins this season, beating teams such as Texas, Florida, Auburn, Alabama, Georgia, and Oklahoma. Only three of those games were even close (Texas, Auburn, and Alabama). 
LSU quarterback Joe Burrow had a standout year and was awarded the 2019 Heisman trophy. Burrow threw for 5208 yards, 55 touchdowns, and only allowed six picks. Burrow originally played for the Ohio State Buckeyes from 2015-2017 but transferred to LSU in 2018 after seeing little playing time in Ohio. This year Burrow led the LSU Tigers to a 14-0 season 
Clemson Tigers
Clemson is currently on a 29-game winning streak, the longest active winning streak in the FBS. Sophomore quarterback Trevor Lawrence has not lost a college football game yet, and if he can get past the LSU Tigers, he will have won two National Championships in his two years at Clemson.
Clemson squeaked by Ohio State in the College Football Playoffs and could have lost if not for a few controversial calls by the officiating crew that went in their favor. One particular scoop and score in the third quarter was overturned, and Clemson retained possession. Below you can see the play that was initially ruled a touchdown, but after the review, the call was reversed to an incomplete pass.
How to Bet On The National Championship
With the biggest College Football game of the year looming, many US bettors are wondering what the best way is to bet on the Championship game. Since the repeal of PASPA in 2018, there are now many states that offer sports betting to their residents and visitors. However, not all state-operated sportsbooks are the same. Some states have restrictions on college athletics, while others have restrictions on mobile or online betting. To avoid all the confusion and to get better betting lines, the obvious choice is to sign up with a sportsbook that is located outside of the US. 
Offshore sportsbooks accepting US residents often tend to be the most convenient option for US players. Not only do they accept registrations from players over the age of 18, but they also offer many bonuses, additional betting options, and 24/7 customer support. Players also typically love the convenience of betting on the go with mobile options and depositing and withdrawing almost instantaneously with Bitcoin or other altcoins, depending on the sportsbook.  
2020 National Championship Odds
The 2020 National Championship game will broadcast on ESPN and is set to begin at 8 pm EST on Monday, January 13th, 2020. 
As mentioned above, LSU is favored to win according to 18+ sports betting sites found online. Below you will see the game lines found at Bovada's Sportsbook.