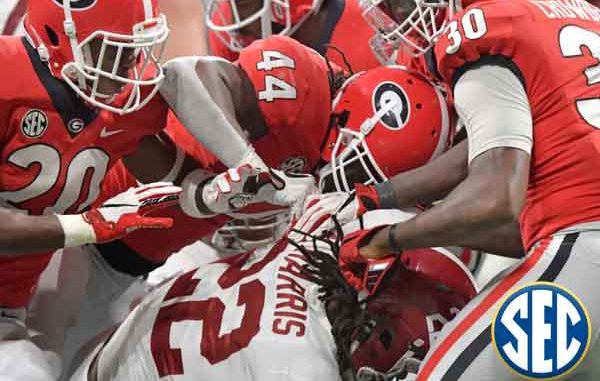 The coronavirus has changed the 2020 college football season by forcing teams to play a conference heavy schedules, and while Georgia (#3) vs. Alabama (#2) was already scheduled, there is not a bigger game this season in the South Eastern Conference (SEC) that will have more significant playoff implications. 
Georgia Bulldogs
The Georgia Bulldogs are coming off an SEC Championship loss last season dealt by the hands of LSU. After losing 37-10 to the LSU Tigers in the SEC Championship, Georgia missed the playoffs while the LSU Tigers went on to win the National Championship. This year things have already been shaken up as LSU lost 2 of their first three games, and Georgia looks poised for the playoffs if they can beat their rival Alabama. 
However, beating Alabama will be no easy task as they are loaded again this year despite losing their starting protégé Tua Tagovailoa. Georgia is also playing a new quarterback this year as they have already struggled to find their starter since beginning the season nearly a month ago. 
The one thing Georgia does have going for them and why they are ranked #3 in the polls is their defense. So far, the Georgia defense looks to be one of the best overall defenses in college football, but critics would be quick to say it is too early to tell. One thing Georgia will have to do better to beat Alabama is put the ball in the endzone. 

---
Alabama Crimson Tide
Like most bettors would say, "Don't bet against Alabama." Even though the Crimson Tide has got off to a rough start, according to head coach Nick Saban, the Tide has found a way to win their previous three games going into this SEC battle. 
In recent years the pendulum has been swinging Alabama's way a lot. In fact, Georgia hasn't beat the Crimson Tide since Sept. 22, 2007, when they forced overtime and won by a field goal. Alabama leads the all-time series 40-25-4 going into this weekend. 
While Alabama may have started slow on defense, most bettors are still hoping to ride the Tide to the bank. 

---
UA vs. UGA Odds
While Georgia may be due for a win, it is hard to bet on a team struggling to move the ball. Since the rivalry began, Alabama has never won 6 in a row, which they will be shooting for this Saturday. Bettors who take Georgia are hoping for a good payday, but the risk is also high; bettors who take Alabama might be playing it too safe since the odds favor the Crimson Tide winning the game. 
Below you will see the current money line odds for the SEC Showdown between the Georgia Bulldogs and the Alabama Crimson Tide. 
Georgia (#3) +180

Alabama (#2) -220
---
Sportsbook Options
Online sportsbooks are currently offering game odds, futures, and props for betting on college football. These sportsbooks allow US bettors over 18 to place wagers online without fear of federal prosecution. 
US sports betting laws do not outlaw online gambling as long as the site is operating legally outside of the United States; therefore, US bettors have multiple online gambling options they can access. 
To get the best odds, online bettors will often shop odds from different sites until they find one they think is the most favorable. While we do suggest line shopping, we also urge precaution as there are rogue sportsbooks that are more of a hassle than a service. Our favorite 18+ online sports betting sites have been vetted by our team and offer value to players. These sites have US-friendly banking options, fast payouts, and are operating legally under gaming licenses that issue compliance orders. 
Whether you decide to watch or to put some money down on the game, you are sure to witness a classic Saturday night battle. 
Game Details
Date: Oct. 17 at Alabama 8 p.m. CBS

Game: Georgia at Alabama

Time: 8pm (EST)

Network: CBS