As the 2021 NBA playoffs continue to surprise fans worldwide, 18+ online sportsbooks have started offering odds in unfamiliar ways along with the traditional game lines, totals, and futures. 
For most bettors, the NBA playoffs are one of the best times of the year to lay down a wager, but this year, it's even better with new prop tools, exact matchup odds, MVP futures, and more. As there are now only eight teams left, future odds are starting to dwindle to the select few teams who still have a shot at greatness.
Prop Building Tools
Prop building tools might be new to occasional bettors as sportsbooks have just started offering this tool in recent years. With the prop-building tools offered at Bovada and BetOnline, you can build your props and wager on the rendered odds. To take advantage of this new tool, navigate to the sportsbook and then to the props section.
Once you find the new prop builder tool, you will see options to add players, stats, and more to create a wager. So if you think Kyrie Irvin will record a triple-double against the Bucks, you can add those stats and bet on the odds that are rendered by the prop builder tool.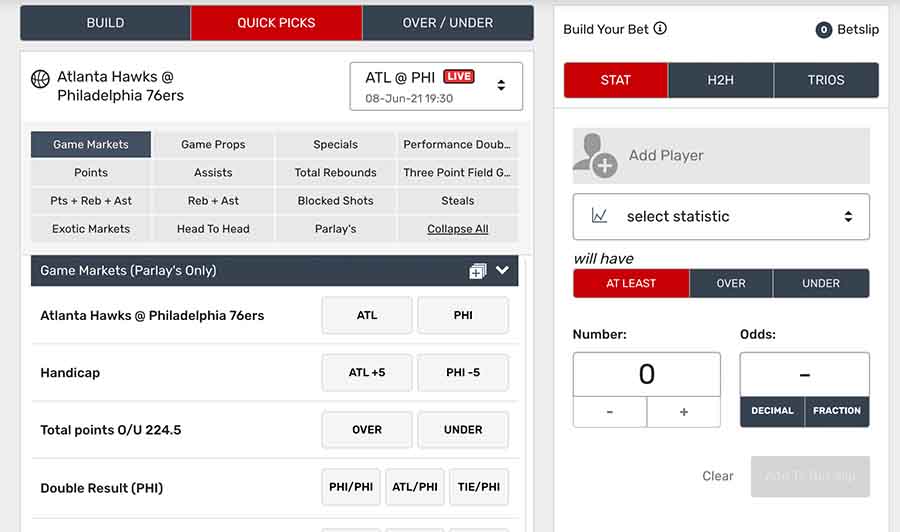 NBA Finals Exact Matchup Futures
Not only can you bet on the exact outright winner of the 2021 NBA finals, but now you can bet on the two teams that will advance to the final matchup. Online sportsbooks such as Bovada are currently offering exact matchup odds for every possible outcome. Below are the current odds for the 2021 NBA Finals exact matchup.
Utah Jazz – Brooklyn Nets +210
LA Clippers – Brooklyn Nets +300
Utah Jazz – Milwaukee Bucks +1800
Phoenix Suns – Brooklyn Nets +325
Utah Jazz – Philadelphia 76ers +1400
LA Clippers – Milwaukee Bucks +2300
Denver Nuggets – Brooklyn Nets +1900
LA Clippers – Philadelphia 76ers +1800
Phoenix Suns – Milwaukee Bucks +2500
Phoenix Suns – Philadelphia 76ers +2000
Denver Nuggets – Milwaukee Bucks +12000
Utah Jazz – Atlanta Hawks +2500
Denver Nuggets – Philadelphia 76ers +9600
LA Clippers – Atlanta Hawks +3200
Phoenix Suns – Atlanta Hawks +3500
Denver Nuggets – Atlanta Hawks +16000
Finals MVP Futures
Even though the last two teams haven't been decided, online sportsbooks offering NBA odds have futures for who will be awarded the Finals MVP. 
We mention these odds because the value is high as there is no clear favorite at this time. If you are looking for a big payday, the best way to secure those odds is to bet early. 
If you have been following the 2021 NBA playoffs, you know who has been playing lights out and who has gone soft. The current NBA Finals MVP odds are as followed. 
Kevin Durant +200
Donovan Mitchell +400
Kawhi Leonard +550
Devin Booker +900
James Harden +1000
Paul George +1200
Rudy Gobert +1400
Chris Paul +1500
Kyrie Irving +1500
*More odds available at Bovada's Sportsbook.
Whether you choose to bet on these odds or not, we hope that you enjoy the show. As crowds get back to normal and players, feed off the home crowd, remember anything can happen.