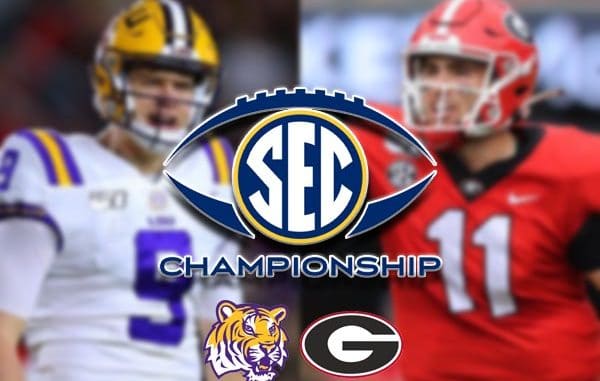 This Saturday, December 7th, the South Eastern Conference (SEC) Championship will take place in Atlanta, Georgia, at Mercedes Benz Stadium. This matchup is the first time in seven years that neither Alabama or Auburn has made the SEC Championship, and ironically the last time neither team made the cut was a matchup between Georgia and LSU in 2011. 
This Saturday, the UGA vs. LSU matchup is arguably the best college matchup of the weekend, giving that LSU is ranked #2 and Georgia is #4. The winner will earn a spot in the College Football Playoffs while the loser will be sent to a bowl game that has no championship implications. 
Where To Bet
Domestic sportsbooks have recently taken flight in the United States, but many 18-year-olds have been excluded from placing bets due to state age restrictions. Only two states currently all sports betting to residents and visitors under the age of 21 and over the age of 18: Montana and New Hampshire. Tennessee will also give 18-year-olds the privilege of betting on NCAA games once their state services launch. 
Most 18-year-old sports bettors turn to online sportsbooks located offshore that accept their US registrations. Online sportsbooks like Bovada have been servicing the US for years and provide game lines for college and professional sports. You will also find lines or odds for just about every imaginable sport around the world. 
Online sportsbooks do not have the same limitations some sports betting states have. Offshore sportsbooks allow political wagering, have no college betting restrictions, oftentimes have higher bet limits, and will accept 18-year-olds. 
How To Set Up An Account
Setting up an account with an offshore sportsbook is easy; you need to sign up and verify your account. Once the account has been created, you will need to deposit into your bankroll. Online sportsbooks offer several options for funding an account, including Bitcoin, Visa, MasterCard, and other options depending on the site. 
Once your account is verified and funded, you are ready for some betting action. Navigate over to the sports tab and find the game you wish to wager on. 
Who To Bet On For The 2019 SEC Championship Game?
Betting on College football or in this case, the SEC Championship is similar to betting on the NFL. Once you know the matchup you would like to wager on, you can find game lines, futures, or prop bets for the matchup. 
This year you can see the game lines listed below favor the LSU Tigers over the Georgia Bulldogs. This means that taking the Tigers would payout less and that taking Georgia would payout more but is a more significant risk. 
SEC Championship Game Odds:
Georgia (#4): +7.5 (-110), +250, O55.0 (-110)


LSU (#2): -7.5 (-110), -300, U55.0 (-110)
LSU is currently nursing an undefeated season, and many analysts favor them to win it all. Georgia has been steady for the majority of the season minus the one slip-up against South Carolina, where they lost in overtime.